In science news this week: Invertebrates with Altitude: Effects of Drought in Mountain Streams; Photo Essay: The Vegan Trout; California Vintner Steps Forward to Protect Endangered Salmon; Food flight: Fish Hitch a Ride in Bird Guts; Raised in Rice Fields; Is wildfire management 'for the birds?'; A Drier Future Sets the Stage for More Wildfires; Great Plains' Ecosystems Have Shifted 365 Miles Northward Since 1970; and more …
Invertebrates with Altitude: Effects of Drought in Mountain Streams:  "Small headwater streams at high elevations may be mostly inaccessible to fish, but they still teem with aquatic life. Benthic macroinvertebrates, including insect larvae, worms, snails, and other backbone-lacking creatures, often rule the alpine waterways. These organisms are a significant source of food in the upper watershed as well as in downstream reaches. However, their high-altitude homes put them on the front lines of climate change, which threatens to have major impacts on mountain streams. This is particularly true of streams in the Sierra Nevada of California, where the Mediterranean climate already brings seasonally dry conditions. Climate models developed for the Sierra Nevada predict changes to the seasonal timing of stream flows, prolonged periods of low flow, and a smaller snowpack. Understanding how invertebrate communities will respond to such changes is important for making predictions about the future of stream ecosystems. … "  Read more from FishBio here:  Invertebrates with Altitude: Effects of Drought in Mountain Streams
Photo Essay: The Vegan Trout:  "Tucked away at 5,000 feet above sea level in Susanville, California, David McFarland and Cristian Morgan are raising vegan rainbow trout for the carnivorous residents of San Francisco.  Most farmed fish are raised on fishmeal — a mulch of pulverized oceanic prey fish. Not only is it wasteful to feed fish to other fish, depleting these species' stocks is ecologically disastrous. McFarland's trout are raised on an algae- and pistachio-based meal that, although a little more expensive, removes one of the greatest obstacles to sustainability in the supply chain. … "  Read more from Bay Nature here: Photo Essay: The Vegan Trout
California Vintner Steps Forward to Protect Endangered Salmon:  "A vintner in Northern California is upgrading a concrete fish barrier to return native salmon and steelhead to valuable spawning habitat that has been blocked for nearly a century. A cooperative "Safe Harbor" agreement between the landowner Barbara Banke, Chairman and proprietor of Jackson Family Wines, and NOAA Fisheries and other state and local agencies has fostered the improvements. These agreements provide incentives to private landowners who help recover threatened and endangered species. The story begins in the late 1800s, when two real estate speculators, F.E. Kellogg and W.A. Stuart, bought part of a Spanish land grant in Sonoma County and built a post office, general store, school, cottages, a hotel, and a diversion structure on a nearby stream to provide water for residents and visitors to the town. ... " Read more from NOAA here: California Vintner Steps Forward to Protect Endangered Salmon
Food flight: Fish Hitch a Ride in Bird Guts: "Fish can show up in remarkable places, like ponds disconnected from any other body of water or remote alpine lakes. Sure, sometimes they get a first-class flight courtesy of humans, but in some cases the fish in question were not stocked by people, so they must have arrived by  alternative means. If there were no humans to move them, and no flood waters to carry them, how do fish reach these aquatic islands in a sea of land? A recent investigation has yielded one possible answer that sounds like a distinctly unpleasant ride. … "  Read more from FishBio here: Food flight: Fish Hitch a Ride in Bird Guts
Raised in Rice Fields:  "Snow geese erupt against a blue sky trimmed with fresh, white clouds. The air is so clear you can see for miles, east to the distant peaks of the Sierra Nevada and west to the gentle slopes of the Coast Ranges. But Carson Jeffres and Jacob Katz are less interested in the view above them than the one at their feet. Standing knee-deep in a flooded field at Knaggs Ranch, a rice farm near Sacramento, they peer into a floating cage made of PVC pipe and mesh and prepare to check on its unusual inhabitants. ... "  Read more from Biographic here: Raised in Rice Fields
Is wildfire management 'for the birds?':  "Spotted owl populations are in decline all along the West Coast, and as climate change increases the risk of large and destructive wildfires in the region, these iconic animals face the real threat of losing even more of their forest habitat.  Rather than attempting to preserve the owl's remaining habitat exactly as is, wildfire management — through prescribed burning and restoration thinning — could help save the species, argues a new paper by fire ecologists and wildlife biologists and appearing today (July 2 ) in the journal Frontiers in Ecology and the Environment. … "  Read more from Science Daily here: Is wildfire management 'for the birds?'
Trees for water quality credits:  "The more naturally verdant an area is, the more likely it will contribute to the general health of the habitats and the organisms in and around it. Sometimes, though, tracing these qualities to specific benefits can be a challenge.  However, in a study published in the journal PLOS ONE, Arturo Keller, a professor of environmental biogeochemistry at UC Santa Barbara, presents a hard link between reforestation of marginal, degraded or abandoned agricultural land and significant benefits in water quality. This relationship, he argues, lends itself toward a program that incentivizes facilities that discharge pollutants, and local farmers to plant trees for water quality credits. … "  Read more from Science Daily here:  Trees for water quality credits
Extremely Dry Soil Connects Forest Die-Offs To Prolonged Drought, Says New UC Study:  "The U.S. Forest Service estimates 147 million trees in California died following the state's prolonged drought. New research out of UC Merced suggests a culprit: Extremely dry soil.  Not all California droughts have led to massive forest die-offs. The difference this time, according to an article published Monday in the peer-reviewed journal Nature Geoscience, was the drought's intense heat and longevity. Together, those factors led to an overdraft of much-needed soil moisture, even deep below the surface, says Roger Bales, Director of UC Merced's Sierra Nevada Research Institute and senior author on the study. ... "  Read more from Valley Public Radio here: Extremely Dry Soil Connects Forest Die-Offs To Prolonged Drought, Says New UC Study
A Drier Future Sets the Stage for More Wildfires:  "November 8, 2018 was a dry day in Butte County, California. The state was in its sixth consecutive year of drought, and the county had not had a rainfall event producing more than a half inch of rain for seven months. The dry summer had parched the spring vegetation, and the strong northeasterly winds of autumn were gusting at 35 miles per hour (56 kilometers per hour) and rising, creating red flag conditions: Any planned or unplanned fires could quickly get out of control.  Sure enough, just before daybreak, strong winds whipped a stray spark from a power line into an inferno. … "  Read more from NOAA here: A Drier Future Sets the Stage for More Wildfires
Fighting fire with fire:  "Snow-capped mountains and blue skies sat in sharp contrast to the red flames burning slowly across the dried cattails and bulrush on an early spring morning in northern Nevada. Brian German, a fire operations specialist, led his team of firefighters as they used drip torches to ignite the dry marsh and build a steady line of flames to create a "blackline" around the perimeter of a wetland unit at Ruby Lake National Wildlife Refuge.  Not long after, one of the firefighters lobbed a firing device into the center of the unit, which exploded to create a slow fire that crept outward toward the blackline.  "These fires mimic the behavior of healthy fire in nature," said German." … "  Read more from the US FWS here:  Fighting fire with fire
Great Plains' Ecosystems Have Shifted 365 Miles Northward Since 1970:  "Ecosystems in North America's Great Plains have shifted hundreds of miles northward in the past 50 years, driven by climate change, wildfire suppression, energy development, land use changes, and urbanization, according to a recent study published in the journal Nature Climate Change.  The northernmost ecosystem boundary of the Great Plains, for example, has moved more than 365 miles north since 1970, or 8 miles every year. The region's southernmost ecosystem boundary has shifted 160 miles north, or 4 miles a year. … "  Read more from Yale 360 here: Great Plains' Ecosystems Have Shifted 365 Miles Northward Since 1970
Could Bacteria Target Algal Microcystin Toxins Released Into Water?  "In 2014, the Toledo Water Crisis left about 500,000 people without access to safe drinking water for several days. Since that time, the city has been working hard to combat harmful algal blooms (HABs), and so has Dr. Jason Huntley of the University of Toledo. Dr. Huntley spoke to EM about his recent work searching for bacteria that occur naturally in water and are safe for humans—but not for microcystins that cause HABs.  "Before I started this project, I had no idea how many millions of gallons of water the City of Toledo purifies from Lake Erie," comments Dr. Huntley. "It's actually an amazing amount of work that they do day in and day out." ... "  Read more from Environmental Monitor here: Could Bacteria Target Algal Microcystin Toxins Released Into Water?
Opening the door for open data:  "Decades worth of ecological data points, metadata, and databases have been amassed by scientists around the world. Where all these data end up has major implications for the future of research and conservation, yet there are no standard practices for sharing data with other scientists or the public. Shared data could open the door for new research opportunities and could be used to make better-informed policy and conservation decisions. However, most raw data and potentially useful information ends up filed away by those who initially gathered it, sometimes never to be glanced at again. Published results that are not open source often go unnoticed by experts from varied fields because they are locked behind paywalls. Additionally, there are few incentives and resources for researchers to share their data. However, several efforts are underway to simplify and encourage sharing environmental data, open up access to important information, and improve transparency. ... "  Read more from FishBio here: Opening the door for open data
Maven's XKCD Comic Pick of the Week …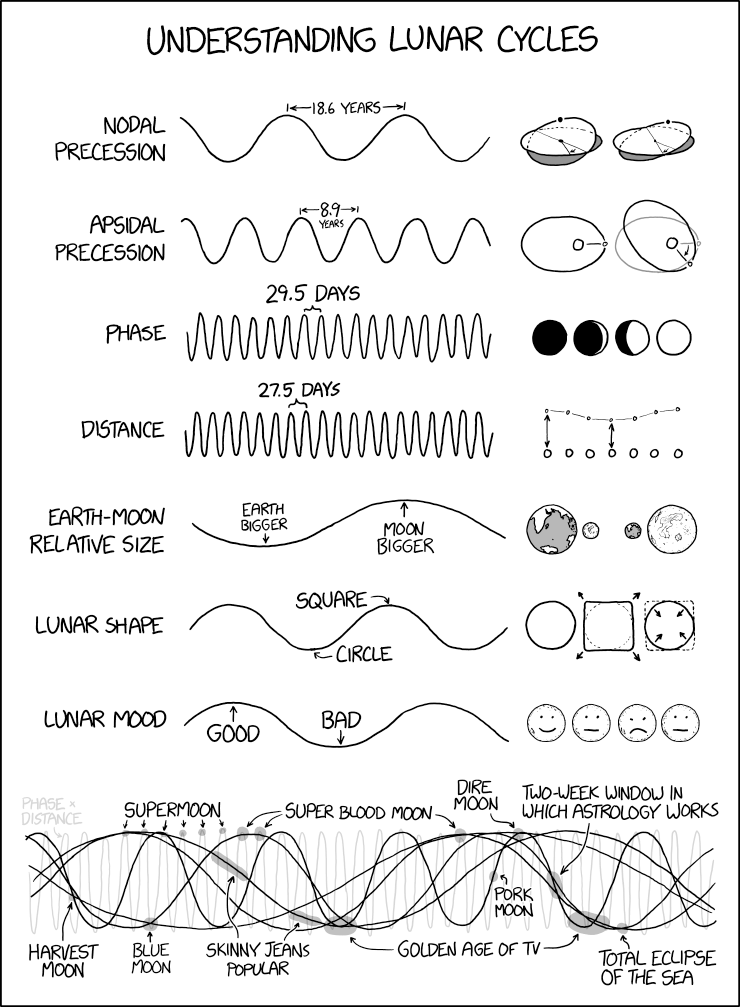 Sign up for daily email service and you'll never miss a post!
Sign up for daily emails and get all the Notebook's aggregated and original water news content delivered to your email box by 9AM. Breaking news alerts, too. Sign me up!

---
About Science News and Reports: This weekly feature, posted every Thursday, is a collection of the latest scientific research and reports with a focus on relevant issues to the Delta and to California water, although other issues such as climate change are sometimes included. Do you have an item to be included here? Submissions of relevant research and other materials is welcome. Email Maven