Rising sea levels put Pacific salt marshes at risk for extinction, study says: "Climate change is dialing up the pressure on species around the world. Polar bears may be the most iconic example, but creatures from corals to elephants are all affected by a warming, changing planet. Individual species aren't the only ones at risk of extinction. In the case of Pacific coastal wetlands, an entire ecosystem type could be wiped out by a rise in the sea level, according to UCLA and U.S. Geological Survey research published today. "The bottom line is, especially in California, most of the salt marsh is going to go away by 2100," said Richard Ambrose, a UCLA professor of environmental health and co-author of the paper. "Some will go away by 2050." … " Read more from the UCLA Newsroom here: Rising sea levels put Pacific salt marshes at risk for extinction, study says
New research offers potential to predict atmospheric river activity up to 5 weeks ahead: "Those long, intense plumes of moisture in the sky known as atmospheric rivers are a vital water source to communities along the U.S. West Coast. In their absence, desiccating droughts can develop. But in their presence, they can cause extreme rain and floods that can disrupt travel, cause landslides, and trigger infrastructure failures. Currently, no guidance exists to help decision-makers plan for these events more than two weeks in advance, but a new study in the Nature Partner Journal Climate and Atmospheric Science describes a breakthrough in accurately predicting atmospheric river behavior several weeks ahead. … " Read more from Climate.gov here: New research offers potential to predict atmospheric river activity up to 5 weeks ahead
When every fish counts: Genetic tools can ensure accuracy of identification: "Genetic tools can be a powerful complement to visual identification of endangered fish, indicates a study from the University of California, Davis. In the study, published in the journal Conservation Genetics, researchers conducted genetic analysis on fin clips from endangered delta smelt, threatened longfin smelt and invasive wakasagi smelt. The fin clips were among those collected as part of the Yolo Bypass Fish Monitoring program. … " Read more from UC Davis here: When every fish counts: Genetic tools can ensure accuracy of identification
Newly-hatched salmon use geomagnetic field to learn which way is up: "Researchers who confirmed in recent years that salmon use the Earth's geomagnetic field to guide their long-distance migrations have found that the fish also use the field for a much simpler and smaller-scale migration: When the young emerge from gravel nests to reach surface waters. The study is published in the journal Biology Letters. The findings have important implications for understanding how salmon navigate across the wide range of habitats they encounter. … " Read more from Science Daily here: Newly-hatched salmon use geomagnetic field to learn which way is up
Involving the public in water policies is key to successful municipal water systems, study finds: "Informing residents about local water issues and involving them in local water policies are the keys to building healthy and resilient city water systems, according to a Portland State University study. Melissa Haeffner, a PSU environmental science professor and the study's principal investigator, said that residents who received communications from their local water bureaus or served on a city water system advisory board or committee had perspectives and concerns that were more aligned with those of political leaders and professional water managers. … " Read more from Science Daily here: Involving the public in water policies is key to successful municipal water systems, study finds
Repairing the Feather River after the Oroville Dam emergency:
Maven's XKCD Comic Pick of the Week …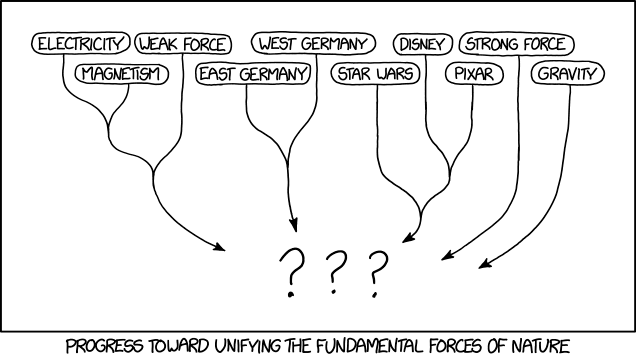 Sign up for daily email service and you'll never miss a post!
Sign up for daily emails and get all the Notebook's aggregated and original water news content delivered to your email box by 9AM. Breaking news alerts, too. Sign me up!

---
About Science News and Reports: This weekly feature, posted every Thursday, is a collection of the latest scientific research and reports with a focus on relevant issues to the Delta and to California water, although other issues such as climate change are sometimes included. Do you have an item to be included here? Submissions of relevant research and other materials is welcome. Email Maven