In science news this week: Imagery unlocks an unexpected view of California's drought; NOAA Fisheries West Coast Region issues 2016 status report for salmon and steelhead; Measuring rising seas is tricky in deltas; Introducing underrepresented students to cutting edge marine science; Global warming: Spring a no-go?; As El Nino weakens, cool surface waters emerge in the eastern tropical Pacific
Imagery unlocks an unexpected view of California's drought:  "Climate had little to do with the research, but it emerged as a telling factor after UO geologist Joshua Roering and postdoctoral researcher Georgie Bennett found themselves confused by new landslide data they had gathered.  In the project, Bennett had merged data from on-the-ground measurements, aerial photography, satellite imagery and satellite-radar imaging of 98 landslide formations in northern California's Eel River Basin. The more recent satellite data seemed at odds with the historical record on landslides' movements as tracked from 1944 to the turn of the century. Rocks atop the landslides, the satellite imagery showed, had barely moved in the last three years.  "We realized that this slowing down of the landslides was a massive signature of California's drought," said Roering, a professor in the UO Department of Geological Sciences. "Finding this was an accident. We didn't set out to connect our research to climate. We discovered this by being frustrated by the data." ... "  Read more from Oregon University here:  Imagery unlocks an unexpected view of California's drought
NOAA Fisheries West Coast Region: 2016 status report for salmon and steelhead:  "As directed by the Endangered Species Act, NOAA Fisheries reviews the status of all listed species every five years to determine whether a species should be delisted, reclassified from endangered to threatened or threatened to endangered, or whether the current classification should be retained. We completed our most recent five-year status review of all 28 Pacific salmon and steelhead in 2016. The review found that no species warranted a change in status at this time. Many species have either improved or remained stable since the previous review in 2011, but none of the species reviewed have declined significantly or improved such that a change in listing status is warranted. Each of the status reviews is available below, as well as the supporting documentation used to inform the agency's review."  Click here to read the status reports.
Measuring rising seas is tricky in deltas:  "Earth's stratigraphic record offers a patchwork diary of how different parts of the planet have formed and changed over time. Some of the most extensive pieces of the stratigraphic record are found in deltas, making them ideal places to look for long-term chronicles of Earth's history, as well as clues to future changes to our coastal landscapes.  The stratigraphy of deltas, which form where rivers empty into the ocean, is primarily controlled by fluctuations in sea level. When sea level rises and shorelines move inland, for example, the layers of sediment deposited in a delta may change from sands and plant roots washed down rivers to mud and shells more characteristic of deeper marine environments. But internal processes in deltas, such as the shifting paths of different stream channels, muddle records of sea-level fluctuations caused by external events like glaciations, complicating efforts to interpret those records. … "  Read more from Earth Magazine here:  Measuring rising seas is tricky in deltas
Introducing underrepresented students to cutting edge marine science:  " … Even in an era driven by science, technology, engineering, and math (STEM) education, our country's science education efforts have not reached all students. This is best illustrated by the lack of diversity in our science workforce. Throughout the United States, women, people with disabilities, and three minority groups—blacks, Hispanics, and American Indians—are considered underrepresented in science. These groups are considered underrepresented because they constitute disproportionately smaller percentages of science degree recipients and of employed scientists than they do of the U.S. population.  For example, while white men only make up 31.6% of the adult population in the United States, they represent 51% of the science and engineering workforce.  NOAA Fisheries and our partners at the King County chapter of the NAACP and the Washington Department of Fish and Wildlife are working to broaden participation in the sciences. This spring, we kicked off a pilot program designed to expose students to scientists and different career pathways, including oceanography, marine biology, and science journalism. … " Read more from NOAA Fisheries here:  Introducing underrepresented students to cutting edge marine science
Global warming: Spring a no-go?  "Spring snowpack, relied on by ski resorts and water managers throughout the Western United States, may be more vulnerable to a warming climate in coming decades, according to a new University of Utah study.  The study, accepted for publication in Geophysical Research Letters, models the year-to-year variability in precipitation and temperature in Utah's Wasatch Mountains and other ranges in the West. Jason Scalzitti, a graduate student in atmospheric sciences, and professors Court Strong and Adam Kochanski found that above a threshold elevation, the amount of spring snowpack is dependent more on the amount of precipitation in a year than the temperature. In other words, whether a year is wet matters more than if it's warm. But below that threshold, temperature matters more. By the end of the century, according to the study, that threshold will move uphill by around 800 feet in the Wasatch and more in the Sierra Nevada, Cascades and parts of the Rocky Mountains. … "  Read more from Science Daily here:  Global warming: Spring a no-go? 
As El Nino weakens, cool surface waters emerge in the eastern tropical Pacific:  "The tropical Pacific Ocean is at the heart of ENSO. Short for El Niño-Southern Oscillation, ENSO is a natural climate pattern in which the central-eastern tropical Pacific swings back and forth between a warm and rainy state (El Niño) and a cooler and drier state (La Niña). El Niño's impact on wind, air pressure, and rain throughout the tropics can have cascading effects, even shifting the location of the mid-latitude jet streams that guide storms towards the United States. ... "  Read more here: As El Nino weakens, cool surface waters emerge in the eastern tropical Pacific
A bittersweet victory for an El Nino chaser:  "It has been a tough year for the world's corals, as warm ocean temperatures associated with one of the largest El Niño events on record drove extensive coral bleaching and coral mortality. As someone who uses coral skeletons to reconstruct El Niño events in the distant past, it was a decidedly mixed year, filled with the exhilaration of a once-in-a-lifetime scientific opportunity as well as profound grief for a reef I've been diving on for 18 years. Let me explain.  … " Read more from the El Nino blog here:  A bittersweet victory for an El Nino chaser
Maven's XKCD Comic Pick of the Week …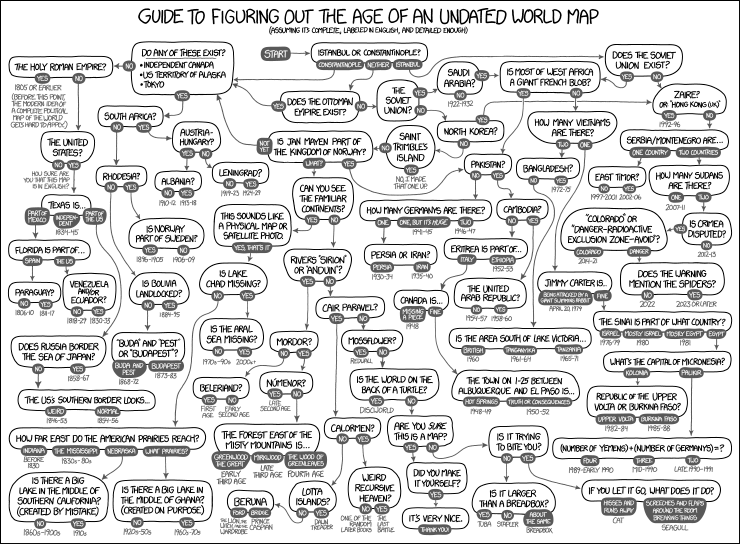 Sign up for daily email service and you'll never miss a post!
Sign up for daily emails and get all the Notebook's aggregated and original water news content delivered to your email box by 9AM. Breaking news alerts, too. Sign me up!

---
About Science News and Reports: This weekly feature, posted every Thursday, is a collection of the latest scientific research and reports with a focus on relevant issues to the Delta and to California water, although other issues such as climate change are sometimes included. Do you have an item to be included here? Submissions of relevant research and other materials is welcome. Email Maven