In science news this week: Nigiri project mixes salmon and rice fields on floodplain for fifth year; Spawning on top of each other; The Living Atlas now includes ESRI's drought tracker; California drought visualized with open data; State Water Board to host data fair and data innovation challenge; Dr. Josue Medellin-Azuara receives Editor's Choice Article Award; Paper: 'Conjunctive Groundwater Management as a Response to Socio-ecological Disturbances; Incentive-based Instruments for Freshwater Management; Increasing drought threatens almost all US forests; Report: Sea levels rose faster last century than in previous 2700 years; Global hawk flies Pacific storm mission
Nigiri project mixes salmon and rice fields on floodplain for fifth year:  "An annual experiment to "plant" salmon in Yolo County rice fields aims to better explain how floodplains support strong salmon populations. Dubbed the "Nigiri Project" for its sushi-like marriage of fish and rice, the research is a collaborative project among the UC Davis Center for Watershed Sciences, the California Department of Water Resources and nonprofit organization California Trout.  For the first time this year, the agricultural floodplain habitat experiment will compare food web productivity and fish growth in three different kinds of river habitat. … "  Read more from UC Davis here:  Nigiri project mixes salmon and rice fields on floodplain for fifth year
Symposium: Delta and longfin smelt: Is extinction inevitable? The UC Davis Coastal and Marine Sciences Institute and the Delta Science Program is hosting a free one-day symposium.  Get more information on the symposium and other upcoming science events on the Notebook's science calendar (Yeah, I'm going to be like that … ) Click here for the science calendar.
Working with salty soils and homemade research tools in the Delta:  "California's Sacramento-San Joaquin River Delta region, commonly referred to simply as the Delta, is often described as a unique part of the world. Although it is located between two big urban centers – the greater Sacramento and San Francisco Bay areas – the Delta can feel like another world altogether.  This is something Michelle Leinfelder-Miles, a farm advisor with UC Agriculture and Natural Resources, knows well. She comes from a sixth-generation farming family in San Joaquin County and, after accepting her position several years ago, was happy to return "home" after working in far-off locations ranging from Spain to Chile to New Zealand. It turned out, however, that because her family farms on the east side of the county, when she first started working on the western side – the Delta – some farmers didn't necessarily see it that way. … "  Read more from The Confluence here:  Working with salty soils and homemade research tools in the Delta
Superimposed: Spawning on top of each other:  "For a species to persist, individuals must survive, reproduce, and leave behind viable offspring. In the case of salmon, evolutionary fitness requires successful spawning. Salmon are prolific egg producers, but their reproductive success largely depends on how many of those eggs survive to become fry. A major reason why many salmon eggs may not survive is that adult salmon often dig their redds (nests) on top of redds already created by other fish. This "redd superimposition" is believed to be a major source of salmon embryo mortality because eggs are easily scattered or crushed by the digging behavior of females (Quinn 2005). Other threats to salmon eggs include predation, low dissolved oxygen levels, redds clogging up with fine sediments, and extremes of temperature and water flow (Quinn 2005). One reason for the success of salmon hatcheries is that they short-circuit this egg-to-fry survival bottleneck through the use of artificially controlled reproductive and early rearing conditions. … "  Read more from the FishBio blog here:  Superimposed: Spawning on top of each other
The Living Atlas now includes ESRI's drought tracker:  "Esri Drought Tracker allows anyone to explore the current and historic levels of drought intensity affecting the USA from Jan 2000 to present. Drought is a prolonged period of less than normal water conditions. Drought can be recognized as a few short days of a dry spell, a longer period of weeks affecting some crops or reducing harvest. Drought can be more severe producing harsh crop damage and requiring voluntary water-use restrictions, or in its worst cases, drought can devastate crops and livestock reducing reservoirs to empty bowls of dust. In all cases, the effect of drought is a cumulative progression of time and that long-term effect helps us understand the severity. ... "  Read more from the ESRI blog here:   The Living Atlas now includes ESRI's drought tracker
And here's another … California drought visualized with open data:  "The State of California is experiencing one of the most severe droughts on record, which has implications for citizens of California and beyond. Many State, Federal, and Tribal agencies make routine observations of the water cycle. This website graphically visualizes these data to help understand the effect of drought on rivers, streams, lakes, and reservoirs. Below, learn more about water use and changes in the water cycle due to the current drought in California.  The data presented here are drawn from free and publicly accessible sources. In addition, the analytical, graphical, and software tools used are open-source and available for public re-use. ... "  Check it out from the USGS here:  California drought visualized with open data
Speaking of data … State Water Board to host data fair and data innovation challenge:  The State Water Resources Control Boards' Office of Information Management and Analysis (OIMA) will be hosting a series of data-centered events from March 18 – April 22, 2016, including a Data Fair and a Data Innovation Challenge. These events will be focused on fostering transparency and collaboration within the Water Boards, with other agencies, and with the general public to help turn data into knowledge and insight that supports the Board's mission of preserving and enhancing Waters of the State. The events will begin with a Data Fair on March 18, 2016, with an open house for publicly available data, and will include a combination of thought-provoking presentations and access to dataset stewards (see the event flyer for more information). The Data Fair will also serve to kick off the Water Boards' Data Innovation Challenge.  For more information, click here to visit the State Water Board's data page.
Dr. Josue Medellin-Azuara receives Editor's Choice Article Award: From UC Davis Center for Watershed Sciences:  "Dr. Josue Medellin-Azuara of the Center for Watershed Sciences has received the 2015 International Association of Hydrogeologists Editor's Choice Article Award for his paper titled "Hydro-economic analysis of groundwater pumping for irrigated agriculture in California's Central Valley, USA."  Dr. Medellin-Azuara is an Associate Research Engineer for the Department of Civil and Environmental Engineering at UC Davis. His interest lie within hydroeconomic modeling of regional water resource systems, adaptation to climate change, consumptive use, and economic representations of water demands. His award winning paper examines the "economic costs of pumping replacement groundwater during drought and the potential loss of pumping capacity as groundwater levels drop." … Thanks to Springer publisher, the article is freely available to all readers for a limited period and can be found here on the Hydrogeology Journal website until April 9th, 2016."
Paper: 'Conjunctive Groundwater Management as a Response to Socio-ecological Disturbances: A Comparison of 4 Western U.S. States':  Michael Campana of the Water Wired blog writes, "Zach Sugg just sent me this paper written by him, Sonya Ziaja, and Edella C.  Schlager and published in the Texas Water Journal: 'Conjunctive Groundwater Management as a Response to Socio-ecological Disturbances: a Comparison of 4 Western U.S. States'.  The four western states are California, Texas, Arizona, and Nebraska.  Before even reading the paper I cast my vote: Nebraska. I don't worry about conjunctive groundwater management, I'm more interested in and attuned to integrated water resources management. Of the four mentioned, only Nebraska does this. The others are not even close. To be sure, conjunctive groundwater management is tougher in a state that does not recognize or practice true integrated water resources management.  … "  Read more from the Water Wired blog here:  Paper: 'Conjunctive Groundwater Management as a Response to Socio-ecological Disturbances: A Comparison of 4 Western U.S. States'
Incentive-based Instruments for Freshwater Management: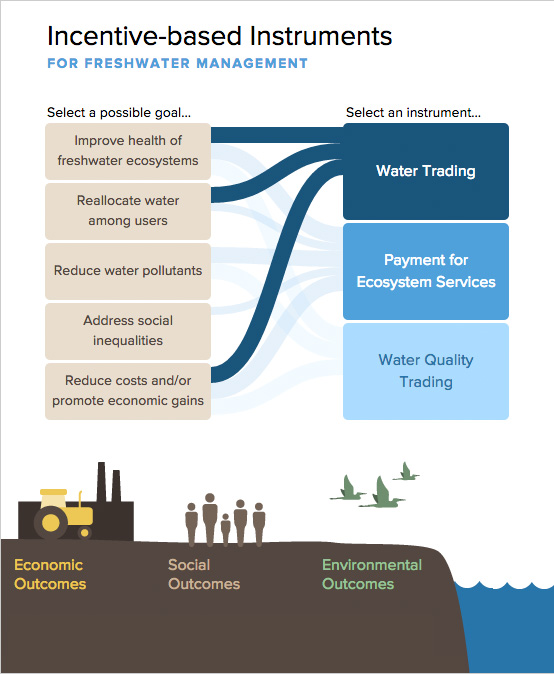 From the Pacific Institute: 
A recently released synthesis report, interactive tool, and digital collection from the Pacific Institute and the Foundation Center provide key lessons from the review of hundreds of case studies, evaluations, journal articles, and white papers about incentive-based approaches to the management of freshwater resources.  Commissioned by The Rockefeller Foundation, this synthesis is an effort not only to better understand the conditions for successfully implementing these approaches but also to inform future initiatives and investments with already existing, practice-based knowledge from nonprofit practitioners, funders, and researchers. All of the results from this project are freely available for funders, practitioners, and researchers to use, contribute to, and build on in their work.  Download the full study here.  View the interactive tool here.  Explore the digital collection here
. "
Increasing drought threatens almost all US forests:  "Forests nationwide are feeling the heat from increasing drought and climate change, according to a new study by scientists from 14 research institutions.  "Over the last two decades, warming temperatures and variable precipitation have increased the severity of forest droughts across much of the continental United States," said James Clark, lead author of the study and an environmental scientist at Duke University.  Clark and colleagues published their paper today in the journal Global Change Biology. ... "  Read more at Phys Org here:  Increasing drought threatens almost all US forests
Report: Sea levels rose faster last century than in previous 2700 years:  "A new study suggests that sea levels are rising at an unprecedented rate and that the problem will continue well into this century.  "Sea level rise in the 20th century was truly extraordinary by historical standards," says Bob Kopp, an associate professor of Earth and planetary sciences at Rutgers University, and who is lead author on the study, which appears in the journal Proceedings of the National Academy of Sciences.  Sea levels rose by roughly 5½ inches in the past hundred years, Kopp says, noting, "That's faster than any century since at least 800 B.C., since the founding of Rome." ... "  Read more from Circle of Blue here:  Report: Sea levels rose faster last century than in previous 2700 years
Global hawk flies Pacific storm mission:  "Extreme weather predictions on the West Coast could become more accurate with help from NASA's remotely piloted Global Hawk. Flights to look at Pacific storms as they develop began Feb. 12.  The mission will show how Global Hawk could augment satellites and routinely fly vast areas of the ocean, said Robbie Hood, director of the National Oceanic and Atmospheric Administration (NOAA) Unmanned Aircraft Systems program.  "How do you use Global Hawks and actually chase storms?" Hood asked. "That's what we are looking at with these missions."  NOAA, NASA and the National Weather Service are partnering on an El Niño field research campaign "to get data in the hands of forecasters and for our weather models," said Robert Webb, Physical Science Division director of the Office of Ocean and Atmospheric Research for NOAA. ... "  Read more from NASA here:  Global hawk flies Pacific storm mission
Maven's XKCD Comic Pick of the Week …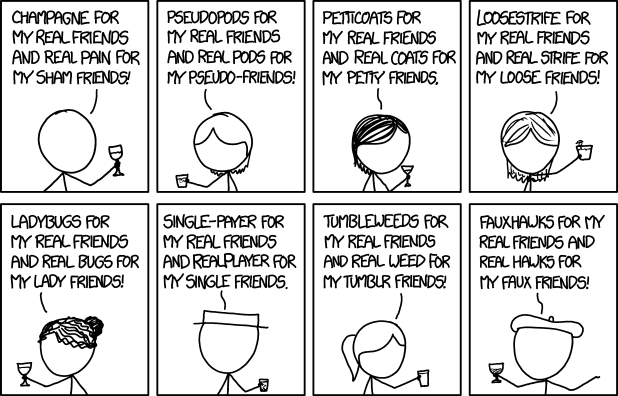 Sign up for daily email service and you'll never miss a post!
Sign up for daily emails and get all the Notebook's aggregated and original water news content delivered to your email box by 9AM. Breaking news alerts, too. Sign me up!

---
About Science News and Reports: This weekly feature, posted every Thursday, is a collection of the latest scientific research and reports with a focus on relevant issues to the Delta and to California water, although other issues such as climate change are sometimes included. Do you have an item to be included here? Submissions of relevant research and other materials is welcome. Email Maven