In science news this week: A backup plan for the Delta smelt; Interagency Ecological Program Newsletter highlights pelagic fishes, Central Valley chinook salmon, and Yolo Bypass fisheries monitoring and more; Why care about native fish?; To migrate or not – that is the question; Flooding farms in the rain to restore groundwater; Toxicity testing, toxic algae, and new tools for data visualization highlighted in inaugural issue of the SWAMP newsletter; Ecotourism, natural resource conservation proposed as allies to protect natural landscapes; USGS science for an El Nino year; and the quest to predict severe weather sooner
A backup plan for the Delta smelt: "Luke Ellison is holding something most of us will never get to see: a Delta smelt. Graceful, iridescent, and about as long as my finger, these fish are so rare in the wild that just six adults were found during a sample survey of the Sacramento-San Joaquin Delta last spring. And the Delta is the only place in the world where this endangered species lives—in the wild, that is. Delta smelt also live in enormous round outdoor tanks and smaller tanks inside dimly lit trailers filled with the sound of running water. Crowded onto two acres near the edge of the Delta, the neat rows of tanks and trailers comprise the UC Davis Fish Conservation and Culture Laboratory (FCCL), which maintains a captive population of 10,000 smelt as a hedge against their extinction in the wild and another 10,000 for research. If the wild smelt die out, the captives will be released in an effort to keep the species going. ... " Read more from Bay-Nature here: A backup plan for the Delta smelt
Interagency Ecological Program Newsletter highlights pelagic fishes, Central Valley chinook salmon, and Yolo Bypass fisheries monitoring and more: A new issue of the IEP Newsletter is now available. Articles in this edition: 2014 Status and Trends Report for Pelagic Fishes of the Upper San Francisco Estuary; Central Valley Chinook Salmon Harvest and Escapement: 1975-2014; 2013-2014 Yolo Bypass Fisheries Monitoring Status and Trends Report; Benthic Monitoring, 2014; and Estimating Annual Abundance of White Sturgeon 85-116 and ≥ 169 Centimeters Total Length. Click here to view the newsletter.
Why care about native fish? "Even with a strong El Niño year, there are no assurances the drought is over. Clearly we need a better plan for future droughts and that plan needs to include provisions for native freshwater fish. But why include native fish? There are many reasons. Many feel that native fish have a right not to be driven to extinction for economic purposes. Indeed, enough people feel this way that this is Federal and state law. In addition, many native fish support human needs, such as providing food, recreational opportunities, future medicinal alternatives, economic well-being or purely aesthetic value. … " Read more from the California Water Blog here: Why care about native fish?
To migrate or not – that is the question: "The fish species Oncorhynchus mykiss possesses the ability to express two different life histories (migrating to the ocean or remaining in freshwater), making it one of the most interesting yet difficult species of fish to manage. The resident form, known as rainbow trout, stays in freshwater its whole life, while the anadromous form known as steelhead migrates to the ocean. A few months ago, we reviewed a study that analyzed genetic and environmental factors that influence anadromy in Oncorhynchus mykiss (see One fish, two forms, many questions), and concluded that management plans may be favoring a life strategy of residency over anadromy. Why does it matter whether a fish migrates or remains a resident, and how do the costs and benefits to each strategy affect the long-term resiliency of the species? … " Read more from the FishBio blog here: To migrate or not – that is the question
Flooding farms in the rain to restore groundwater: "The Central Valley sky was a never-ending expanse of gray. Not a single pixel of blue in sight. Under it, UC Davis scientists were flooding a Modesto almond orchard with half a foot of water. On purpose. In the pouring rain. It sounds a bit strange, and on Jan. 19, looked even stranger. Yet what they were doing could play a key role in helping the state replenish its parched aquifer after more than four years of drought—and help safeguard the water supply against future droughts. … " Read more from UC Davis here: Flooding farms in the rain to restore groundwater
Toxicity testing, toxic algae, and new tools for data visualization highlighted in inaugural issue of the SWAMP newsletter: The Winter 2016 issue articles include variations on toxicity testing, the challenges of toxic algae, SWAMP improvements, new tools for data visualization, and wildlife impacts of mercury in California's lakes. Click here to read the issue.
Ecotourism, natural resource conservation proposed as allies to protect natural landscapes: "If environmentalists want to protect fragile ecosytems from landing in the hands of developers–in the U.S. and around the globe–they should team up with ecotourists, according to a University of Georgia study published in the Journal of Ecotourism. Environmentalists often fear that tourists will trample all over sensitive natural resource areas, but tourism may bring the needed and only economic incentives to help drive conservation, said study co-author Bynum Boley, an assistant professor in UGA's Warnell School of Forestry and Natural Resources. Ecotourism and natural resource conservation already have a mutually beneficial relationship that is ideal for creating a sustainable partnership. ... " Read more from Science Daily here: Ecotourism, natural resource conservation proposed as allies to protect natural landscapes
USGS science for an El Nino year: "El Niño is a phenomenon that occurs when unusually warm ocean water piles up along the equatorial west coast of South America. When this phenomenon develops, it affects weather patterns around the globe, including the winter weather along the west coast of North America. This unusual pattern of sea surface temperatures occurs in irregular cycles about three to seven years apart. During an El Niño year, California and parts of the southern U.S. can be subject to a cold, wet winter. Winter is normally the rainy season in California, and during past El Niño winters (especially in really strong El Niño years, like this one), greater-than-usual numbers of storms arrive, one after another, resulting in wetter-than-usual winters with large amounts of rain on the coast and snow in the mountains. Some El Niño years (especially weak to moderate El Niños) result in dryer than average years in California and the West Coast, providing few storms to wet the landscape. … " Read more from the USGS here: USGS science for an El Nino year
The quest to predict severe weather sooner: "Weather forecasts have become increasingly more reliable thanks to improvements over the past several decades in computer modeling and observational equipment. However, when it comes to severe weather, that reliability typically begins to deteriorate beyond a two-day forecast. To provide an accurate severe weather outlook three or more days in advance, forecasters need to capture the fine-scale behavior of clouds, vertical wind shear and other local processes, as well as the global atmospheric conditions surrounding the local region of interest. … " Read more from NCAR's AtmosNews here: The quest to predict severe weather sooner
Maven's XKCD Comic Pick of the Week …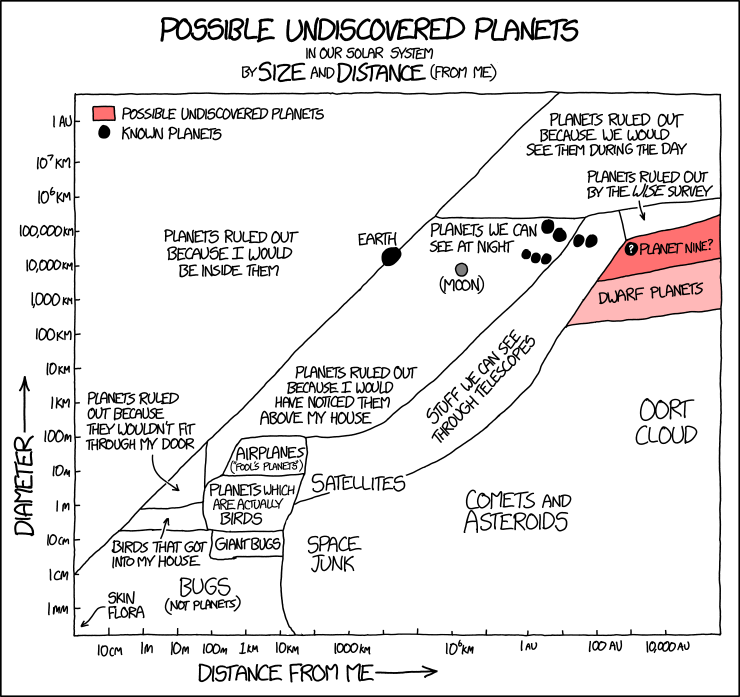 Sign up for daily email service and you'll never miss a post!
Sign up for daily emails and get all the Notebook's aggregated and original water news content delivered to your email box by 9AM. Breaking news alerts, too. Sign me up!

---
About Science News and Reports: This weekly feature, posted every Thursday, is a collection of the latest scientific research and reports with a focus on relevant issues to the Delta and to California water, although other issues such as climate change are sometimes included. Do you have an item to be included here? Submissions of relevant research and other materials is welcome. Email Maven