In science news this week: Spread of algal toxin through marine food web broke records in 2015; Levee breach celebrates wetland restoration on the San Francisco Bay; Microplastics in the Bay, protecting fish during Bay Bridge demolition, and more in the latest issue of Estuary News; Report from annual science review of state and federal water project operations now available; Quelling Irrational Exuberance Over GRACE; Carbon in water must be accounted for the projections of future climate; Normal weather drives salt marsh erosion; Current climate models misrepresent El Nino, study suggests; Coverage from AGU Fall Conference; and the science of Christmas
Spread of algal toxin through marine food web broke records in 2015: "Researchers monitoring the unprecedented bloom of toxic algae along the west coast of North America in 2015 found record levels of the algal toxin domoic acid in samples from a wide range of marine organisms. The toxin was also detected for the first time in the muscle tissue or filet of several commercial fish species.  Investigations led by scientists at the University of California, Santa Cruz, help explain the extraordinary duration and intensity of the 2015 domoic acid event, the spread of the toxin through the marine food web, and its persistence in Dungeness crab months after the algal bloom disappeared from coastal waters. Ocean scientist Raphael Kudela, the Lynn Professor of Ocean Health at UC Santa Cruz, will present the latest research findings at the American Geophysical Union (AGU) Fall Meeting in San Francisco on Friday, Dec. 18, 2015. … "  Read more from Science Daily here:  Spread of algal toxin through marine food web broke records in 2015
Levee breach celebrates wetland restoration on the San Francisco Bay:  "As the morning skies cleared of threatening clouds at a December 10, 2015 ceremony in Redwood City, Calif., more than a hundred guests cheered a levee breach that reintroduced tidal water to inner Bair Island on the Don Edwards San Francisco Bay National Wildlife Refuge for the first time since the area was diked off for agriculture in the 1880s.  The breach culminates a $7.5 million restoration project overseen by the U.S. Fish & Wildlife Service that will enable the 1500-acre site, the largest undeveloped island in South San Francisco Bay, to grow back into the marshland it was 150 years ago. ... "  Read more from the US Fish and Wildlife Service Field Notes here:  Levee breach celebrates wetland restoration on the San Francisco Bay
Microplastics in the Bay, protecting fish during Bay Bridge demolition, and more in the latest issue of Estuary News: "The December 2015 issue explores why the Water Board calls a South Bay cement quarry "the most under-regulated facility" in the region, and how more microplastics have been found in San Francisco Bay than in the Great Lakes. You'll read about steps taken to protect fish in the Bay Bridge blow up and the extra dose of sediment coming to the Estuary's southern shallows courtesy of the drought. This issue also highlights some startling findings from the 2015 State of the Estuary Report." Click here to read the issue: December 2015 Estuary News
Report from annual science review of state and federal water project operations now available: From the Delta Stewardship Council:  "A report from the annual science review of the Long-term Operations Biological Opinions (LOBO) is available now on the Delta Stewardship Council website. The report synthesizes the findings of a panel of independent scientists who reviewed the implementation of actions required by the Endangered Species Act for salmon, steelhead, green sturgeon, and Delta smelt to operate the State and Federal Water Projects.  The review is intended to inform the National Marine Fisheries Service (NMFS) and the U.S. Fish and Wildlife Service (USFWS) about the efficacy of the prior year's water operations and regulatory actions prescribed by their respective  Reasonable and Prudent Alternatives (RPAs). This will enable NMFS and USFWS to use lessons learned, incorporate new science, and make appropriate adjustments to the implementation of the RPAs. The Independent Review Panel's findings and recommendations provide objective feedback to agency staff to consider in future operational decisions."   For more information, please click here.
Quelling Irrational Exuberance: GRACE Comes Down to Earth, MAD & Other Musings: Michael Campana writes, "Hydrogeologists extraordinaire William (Bill) M. Alley and Leonard (Lenny) F. Konikow recently wrote a commentary in the journal Groundwater, 'Bringing Grace Down to Earth', in which they detail the limitations of GRACE satellite data. They are concerned that insufficient attention has been paid to the limitations of GRACE data and analyses. I agree.  Here is part of the the NGWA news release that summarizes their brief but compelling article: 1) GRACE provides a one-dimensional indicator of the status of a large three-dimensional groundwater body; 2) Many key issues associated with groundwater pumping, such as streamflow depletion and land subsidence, are not addressed by GRACE data; ... "  Continue reading at the Water Wired blog here: Quelling Irrational Exuberance: GRACE Comes Down to Earth, MAD & Other Musings
Carbon in water must be accounted for the projections of future climate:  "USGS scientists have documented that the carbon that moves through or accumulates in lakes, rivers, and streams has not been adequately incorporated into current models of carbon cycling used to track and project climate change. The research, conducted in partnership with the University of Washington, has been published this week in the Proceedings of the National Academy of Sciences.  The Earth's carbon cycle is determined by physical, chemical, and biological processes that occur in and among the atmosphere (carbon dioxide and methane), the biosphere (living and dead things), and the geosphere (soil, rocks, and water). Understanding how these processes interact globally and projecting their future effects on climate requires complex computer models that track carbon at regional and continental scales, commonly known as Terrestrial Biosphere Models (TBMs). … "  Read more from the USGS here:  Carbon in water must be accounted for the projections of future climate
Normal weather drives salt marsh erosion:  "For salt marshes, hurricanes are just another day at the beach.  These coastal wetlands are in retreat in many locations around the globe–raising deep concerns about damage to the wildlife that the marshes nourish and the loss of their ability to protect against violent storms. The biggest cause of their erosion is waves driven by moderate storms, not occasional major events such as Hurricane Sandy, researchers from Boston University and the United States Geological Survey now have shown.  "Waves are very powerful because they attack the marsh in its weakest part," says Nicoletta Leonardi, a Ph.D. candidate at BU's Department of Earth & Environment and lead author on a paper published in the journal PNAS. "Generally, the more a salt marsh is exposed to waves, the faster it is eroding." … "  Read more from Science Daily here:  Normal weather drives salt marsh erosion
Current climate models misrepresent El Nino, study suggests:  "An analysis of fossil corals and mollusk shells from the Pacific Ocean reveals there is no link between the strength of seasonal differences and El Niño, a complex but irregular climate pattern with large impacts on weather, agriculture, fisheries, tourism, and air quality worldwide.  The finding contradicts the top nine climate models in use today, which associate exceptionally hot summers and cold winters with weak El Niños, and vice versa.  "The idea behind this link is based on very well-established physics, so it's appealing to think that nature works this way. But our analysis shows that it's not that simple," said Julien Emile-Geay, lead author of a study contradicting the models and assistant professor of Earth Sciences at the USC Dornsife College of Letters, Arts and Sciences. … "  Read more from Science Daily here:  Current climate models misrepresent El Nino, study suggests
Coverage from AGU Fall Conference
El Nino versus the Arctic: which will win this winter?  "This past week, the American Geophysical Union (AGU) 2015 annual meeting was abuzz with discussion of El Niño 3.4 and the Arctic Oscillation. No wonder. These indicators are clues to how major competing factors may play out this winter in the northern hemisphere.  The autumn conditions (October to November) rank as the third largest El Niño since 1950. (Between June and September, El Niño logged the second strongest conditions since 1950.)  Other news released during the AGU meeting was just as remarkable. The latest Arctic Report Card monitoring year (October 2014 to September 2015) broke the hottest Arctic land temperature annual average since 1900. Five key indicators to watch this winter: … "  Read more from the Union of Concerned Scientists here:  El Nino versus the Arctic: which will win this winter?
The best of science and humanity come together at AGU:  "Every year, the world's Earth and space scientists converge on San Francisco for the fall American Geophysical Union (AGU) meeting. Around 25,000 scientists attended this year, most of whom do research relevant to climate change. I've just returned from the conference, at which I was struck by the quality and quantity of fascinating research and people.  I had the pleasure of meeting with dozens of climate scientists, and they were without exception kind, brilliant, fascinating people with a passion for learning how the Earth's climate functions and how humans are changing it. It was a stark contrast from the way the climate science community is often portrayed – as frauds, conspiring to falsify data as part of the greatest hoax ever perpetrated. ... "  Read more from The Guardian here:  The best of science and humanity come together at AGU
Videos from the AGU Fall Conference:  AGU's fall meeting in San Francisco just wrapped up a few days ago. With nearly 24,000 attendees, AGU Fall Meeting is the largest Earth and space science meeting in the world. Here are some of the videos that have been posted online:
The science of Christmas …
The lives of reindeer the other 364 days of the year:  "Caribou, North America's wild reindeer, have lives apart from their famous role on Christmas Eve. Reindeer, of course, is another common name for caribou (Rangifer tarandus) a large, cold-adapted, herding herbivore related to deer, elk and moose.  If reindeer had red, glowing noses, they'd probably be a lot easier to study in the wild. To learn more about the biology behind these arctic antler-bearers, we only have to turn to our colleagues at the USGS Alaska Science Center, who conduct a wide variety of earth science and ecological science surveys throughout our northernmost state.  We asked USGS caribou (and large mammal) expert Layne Adams, Ph.D., about the lives of caribou for those other 364 days of the year. … "  Read more from the USGS here:  The Other 364 Days of the Year: The Real Lives of Wild Reindeer
The scientific benefits of Rudolph's red nose:  "We're all familiar with the story of Rudolph the Red-Nosed Reindeer by Robert L. May (a class of 1926 Dartmouth alumnus), but scientifically speaking, what are the optical benefits of a shiny red nose on a foggy Christmas Eve?  In a paper just published by Frontiers for Young Minds, Nathaniel J. Dominy, Professor of Anthropology at Dartmouth, explores this very question. By citing research by other scientists on the unique eyes and vision of Arctic reindeer, Dominy explains why Rudolph is able to lead Santa and his team of eight tiny reindeer through the thick Arctic fog. … "  Read more from Science Daily here:  The scientific benefits of Rudolph's red nose
And lastly … Santa Claus: An engineer's perspective:  "There are approximately two billion children (persons under 18) in the world. However, since Santa does not visit children of Muslim, Hindu, Jewish or Buddhist religions, this reduces the workload for Christmas night to 15% of the total, or 378 million (according to the Population Reference Bureau). At an average (census) rate of 3.5 children per house hold, that comes to 108 million homes, presuming that there is at least one good child in each.  Santa has about 31 hours of Christmas to work with, thanks to the different time zones and the rotation of the earth, assuming he travels east to west (which seems logical). … "  Read more from IEEE Central Virginia section here:  Santa Claus: An Engineer's Perspective
Maven's XKCD Comic Pick of the Week …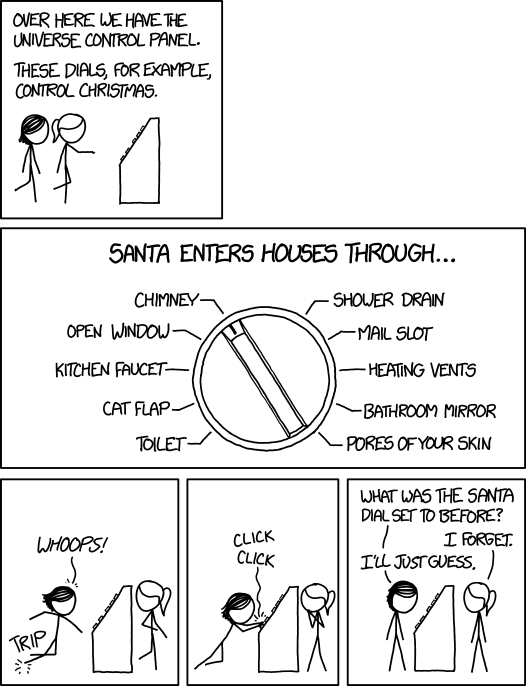 Sign up for daily email service and you'll never miss a post!
Sign up for daily emails and get all the Notebook's aggregated and original water news content delivered to your email box by 9AM. Breaking news alerts, too. Sign me up!

---
About Science News and Reports: This weekly feature, posted every Thursday, is a collection of the latest scientific research and reports with a focus on relevant issues to the Delta and to California water, although other issues such as climate change are sometimes included. Do you have an item to be included here? Submissions of relevant research and other materials is welcome. Email Maven