In science news this week, Key study launched to understand increased algae growth in Lake Tahoe; Heart-stopping science: The importance of fish physiology; Virtual tour guide enhances visits to Humboldt Bay National Wildlife Refuge; The verdict is in: We can grow safe food and conserve nature at the same time; Running streams and carbon dioxide emissions; Extensive Investigation of Intermittent Streams Indicates Link to Past Climate; Fish go deep to beat the heat; Pesticides: More toxic than previously thought?; and Winners of the Visualizing Nutrients Challenge
Key study launched to understand increased algae growth in Lake Tahoe: "The U.S. Geological Survey and the University of Nevada, Reno, will study the cause of eutrophication, or increased algae growth, along the nearshore of Lake Tahoe. Supported by California's Lahontan Water Quality Control Board, the investigation is in response to widespread concerns with water quality and ecological degradation of the lake's nearshore environment. "This study will provide important information on the most influential variables controlling the growth of algae in Lake Tahoe," said USGS Scientist Rich Niswonger. "It could ultimately provide the context for managing activities that degrade water quality in the Tahoe Basin." Over the last decade, nearshore periphyton growth, a form of algae, has increased dramatically in Lake Tahoe. The lake's fragile environment continues to be threatened by a changing climate and introductions of invasive species. The study will investigate the relationship between algae growth and sources of nutrients on the west shore of Lake Tahoe, north of Ward Creek. … " Read more from the USGS here: Key study launched to understand increased algae growth in Lake Tahoe
Heart-stopping science: The importance of fish physiology: "When salmon and trout are exposed to very high temperatures, they often die. Thanks to the study of physiology, we now know that one cause of death in fish living at high temperatures can be a heart attack – fishes' hearts try to speed up to accommodate the warm temperatures, but eventually can't keep up. Physiology is the study of how an animal's body functions and responds to its environment. In fishes, physiology studies often involve measuring factors such as swimming performance, heart rate, oxygen consumption, body chemistry and hormones, and survival under a variety of conditions. Knowledge of fish physiology is essential for managing fish populations, especially in modified waterways like those of California's Central Valley. ... " Read more from the FishBio blog here: Heart-stopping science: The importance of fish physiology
Virtual tour guide enhances visits to Humboldt Bay National Wildlife Refuge: "Mobile technology capabilities allow users across the world to connect instantly with news, entertainment and each other but can a mobile app connect users with nature? The new Discover Nature mobile app launched at Humboldt Bay National Wildlife Refuge Complex last month aims to do just that. Once downloaded to a refuge visitor's mobile device the Discover Nature app provides a virtual tour of the history, habitats and species found on the refuge all while allowing visitors to share their unique experience with others. Discover Nature creators Evan Hirsche and Sam Serebin designed the app to connect families to the outdoors in new and innovated ways by engaging visitors with games and fun facts as they traverse across the refuge landscape … " Read more from the US FWS Field Notes here: Virtual tour guide enhances visits to Humboldt Bay National Wildlife Refuge
The verdict is in: We can grow safe food and conserve nature at the same time: "A new paper published today in the journal Proceedings of the National Academy of Sciences shows that removing habitat around farm fields does not make food safer. In fact, according to lead-author Daniel Karp, a Conservancy NatureNet Science Fellow and post doc at The University of California, Berkeley, "our science shows that the farms that had removed the most habitat actually had greater instances of pathogens, including E. coli and Salmonella. The bottomline: removing habitat near farm fields does not mitigate pathogen risk and there's no reason to continue it." To understand the significance of this finding to both food safety and conservation, we have to go back to 2006, when a notorious E. coli outbreak killed 3 people and sickened hundreds in the United States. … " Read more from the Cool Green Science blog here: The verdict is in: We can grow safe food and conserve nature at the same time
Running streams and carbon dioxide emissions: "That running waters emit significant amounts of carbon dioxide is already known. Therefore, there is concern that the emissions of carbon dioxide from streams and rivers may increase due to climate change, accelerating the growth of this greenhouse gas in the atmosphere. Where the carbon dioxide comes from has been a source of debate among researchers over the past decade. Small streams receive water from the surrounding land, and the most accepted idea has been that the carbon dioxide emitted from streams is exported from the land adjacent to the stream. Now a research team from Umeå University, in collaboration with researchers at the Swedish University of Agricultural Sciences and in the US (at the University of Wyoming and University of Washington), has shown that a significant part comes from the respiration of organisms living in the streams and rivers. … " Significant breath from streams and rivers
Extensive Investigation of Intermittent Streams Indicates Link to Past Climate: "A new USGS study published in the journal River Research and Applications presents an extensive analysis of temporary (intermittent) streams across regions in the conterminous United States where such streams are prevalent (in the western plains and southwest) and describes their sensitivity to past climate. Understanding how intermittent streams may be changing is important because they often serve critical — albeit impermanent — roles in supplying recharge to aquifers, transferring snowmelt water to perennial streams, accumulating agricultural and municipal effluents, and maintaining aquatic biological diversity downstream, to name a few examples. Five distinct types of intermittent streams with record lengths of generally over 40 years and with minimal direct human influence were identified for this study based on their seasonal patterns of no-flow periods. ... " Read more from the USGS here: Extensive Investigation of Intermittent Streams Indicates Link to Past Climate
Fish go deep to beat the heat: "A James Cook University study shows fish retreating to deeper water to escape the heat, a finding that throws light on what to expect if predictions of ocean warming come to pass. JCU scientists tagged 60 redthroat emperor fish at Heron Island in the southern Great Barrier Reef. The fish were equipped with transmitters that identified them individually and signaled their depth to an array of receivers around the island. The experiment monitored fish for up to a year and found the fish were less likely to be found on the reef slope on warmer days. Scientists think the species probably head for deeper water in response to warmer temperatures. … " Read more from Science Daily here: Fish go deep to beat the heat
Pesticides: More toxic than previously thought?: "Insecticides that are sprayed in orchards and fields across North America may be more toxic to spiders than scientists previously believed. A McGill research team reached this conclusion after looking at changes in the behavior of individual Bronze Jumping Spiders both before and after exposure to Phosmet, a widely used broad spectrum insecticide. It is a finding with far-reaching implications for agricultural production and ecosystem health. "Bronze jumping spiders play an important role in orchards and fields, especially at the beginning of the agricultural season, by eating many of the pests like the oblique-banded leafroller, a moth that attacks young plants and fruit," says Raphaël Royauté, a former McGill PhD student whose study on the subject was published in Functional Ecology recently. "Farmers spray insecticides on the plants to get rid of these same pests, and it was thought that it had little significant effect on the spiders' behaviors. But we now know that this isn't the case." ... " Rad more from Science Daily here: Pesticides: More toxic than previously thought?
Record setting bloom of toxic algae in Pacific: "A record-breaking algal bloom continues to expand across the North Pacific reaching as far north as the Aleutian Islands and as far south as southern California. Coinciding with well above average sea surface temperatures across the North Pacific and West Coast of North America, the bloom is laced with some toxic species that have had far-reaching consequences for sea life and regional and local economies. Algal blooms in the ocean are made up of microscopic marine plants known as phytoplankton. Not all phytoplankton are dangerous, but certain species produce dangerous neurotoxins. Shellfish and some fish eat the toxic algae as part of their normal diet, which can then expose their predators—including marine mammals and humans—to the neurotoxins in amounts that can cause illness and, in extreme cases, death. … " Read more from Climate.gov here: Record setting bloom of toxic algae in Pacific
Seeing into Water in New Ways: Winners of the Visualizing Nutrients Challenge: "The results are in. And the public clearly wins. In April 2015, the U.S. Geological Survey, the U.S. Environmental Protection Agency, and Blue Legacy International (a nonprofit organization) challenged solvers to use open government data sources to create compelling visualizations that would inform individuals and communities about nutrient pollution (high-levels of nitrogen and phosphorous that cause excessive growth of algae). … The ultimate goal for the visualization challenge is to inspire citizens to take action at the local watershed level to reduce nutrient pollution and thus help to prevent algal blooms and hypoxia. Here are the results of the 2015 Visualizing Nutrients Challenge. … " Read more from the USGS here: Seeing into Water in New Ways: Winners of the Visualizing Nutrients Challenge
Maven's XKCD Comic Pick of the Week …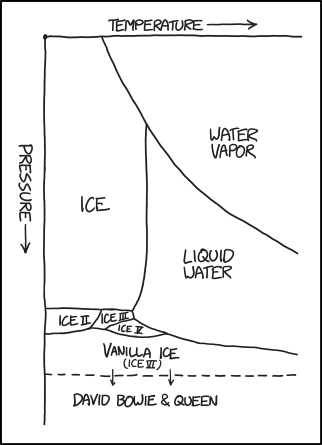 Photo courtesy of Carolina Biological Supply Company
Get the Notebook blog by email and never miss a post!
Sign up for daily emails and get all the Notebook's aggregated and original water news content delivered to your email box by 9AM. Breaking news alerts, too. Sign me up!
___________
About Science News and Reports: This weekly feature, posted every Thursday, is a collection of the latest scientific research and reports with a focus on relevant issues to the Delta and to California water, although other issues such as climate change are sometimes included. Do you have an item to be included here? Submissions of relevant research and other materials is welcome. Email Maven.