Science news and reports: Were predictions of El Nino a bust? plus paleoclimatology, climate change research at Lake Tahoe, why so many temperature records, landscapes shaped by fear, blue-green algae, bad kitties and more …
In science news this week … Were model predictions of El Nino a big bust?; Paleoclimate, proxies, paleosols, and precipitation: A look to the future; NASA satellite sees a warm winter  for the U.S. West; Why so many temperature records?; Lake Tahoe research provides new insights on climate change; Climate change: Evaluating your local and regional sources; A landscape shaped by fear; Blue-green algae proliferating in lakes; Bad kitty: The effect of feral felines on biodiversity; and Scientists have feelings, too
Were model predictions of El Nino a big bust?  "Believe it or not, we ENSO forecasters follow what is being written on various news sites, blogs, and social media. … You inspire us! Many of the topics in our blog come from your questions or ideas you provide. You lead us to think a little harder about the questions we'd like to investigate. And, as of late, we have noticed that there has been some chatter about how the models were wrong about their prediction of El Niño during 2014. Is this true? The answer may surprise you.  … "  Read more from the ENSO blog here:  Were model predictions of El Nino a big bust?
Paleoclimate, proxies, paleosols, and precipitation: A look to the future: "Precipitation reconstructions are essential for predicting impacts of future climate change and preparing for potential changes in terrestrial environmental conditions. Reliable proxy records of paleoprecipitation, especially from past warm periods, are a valuable tool for assessing and modeling future soil and plant moisture and local water availability. However, current terrestrial proxies are limited in their applications, and as a result, a wide range of paleoenvironments are underrepresented in the geologic record."  Read more from Science Daily here: Paleoclimate, proxies, paleosols, and precipitation: A look to the future
NASA satellite sees a warm winter  for the U.S. West:  "While people in the eastern two-thirds of the U.S have been dealing with Arctic Air, the bulge in the Jet Stream over the eastern Pacific Ocean has been keeping the western third of the U.S. in warmer than normal temperatures over the last two months. Infrared data from NASA provided a look at those surface temperature extremes from west to east.  Californians have been flaunting their flip-flops and tee shirt weather at friends and relatives on the frigid East Coast. The contrast is extreme, Californians are experiencing their warmest winter since modern record keeping began and Bostonians are staggering through 8 foot and higher snowdrifts. Why? … "  Read more from Science Daily here:  NASA satellite sees a warm winter
Why so many temperature records?  "If you follow Earth and climate science closely, you may have noticed that the media is abuzz every December and January with stories about how the past year ranked in terms of global temperatures. Was this the hottest year on record? In fact, it was. The Japanese Meteorological Agency released data on January 5, 2015, that showed 2014 was the warmest year on its record. NASA and NOAA made a similar announcement on January 16. The UK Met Office, which maintains the fourth major global temperature record, ranked 2014 as tied with 2010 for being the hottest year on record on January 26.  Astute readers then ask a deeper question: why do different institutions come up with slightly different numbers for the same planet? … " Read more from NASA here:  Why so many temperature records?
Lake Tahoe research provides new insights on climate change: "A Scripps Institution of Oceanography-led study on how natural and human-made sources of nitrogen are recycled through the Lake Tahoe ecosystem provides new information on how global change may affect the iconic blue lake.  "High-elevation lakes, such as Lake Tahoe, are sentinels of climate change," said Lihini Aluwihare, associate professor of geosciences at Scripps Institution of Oceanography at UC San Diego. "Small changes in the lake's chemistry can have big impacts on the entire ecosystem." ... "  Read more from Science Daily here:  Lake Tahoe research provides new insights on climate change
Climate change: Evaluating your local and regional sources: "Ongoing changes in climate, particularly rises in air temperature, are influencing water resources throughout the world, with shifts in the timing of precipitation, reductions in snowpack (fig. 1), and earlier springtime snowmelt among the most important challenges to water availability (fig. 2). These changes are affecting landscapes, vegetation and animal species, and agriculture, with longer dry seasons, which also create more demand on water resources, more frequent extreme storms, fewer chilling hours, and higher snowlines. To plan for future water- and land-resource demands, resource managers have generally relied on data from globalclimate model projections of precipitation and air temperature trends that lack the detail needed for precision planning at regional and local scales. Recently, the U.S. Geological Survey (USGS) has developed modeling tools that integrate climate data with rigorously developed regional and local environmental data to understand the hydrologic response to climate change and the effects on regional and local watersheds and landscapes. … "  Read more from the USGS here:  Climate change: Evaluating your local and regional sources
A landscape shaped by fear:  "It's been a busy morning. I arose before the sun, zoomed down the freeway, and hiked along a fire road. Now I'm off trail, following the battered blue backpack of ecologist Lindsey Hendricks Franco on the upper slopes of 3,949-foot Mount Diablo. As we approach our destination, Hendricks says, "I'm nervous. It's like Christmas."  We're here to see what's sprouting—or not sprouting—in a few of the 216 study plots Hendricks set up six months ago. Our first stop is a circular wire cage about four feet high and three feet across. "Whoa!" Hendricks shouts, pressing her nose to the quarter-inch mesh. "Some lupine in there is going freakin' nuts!" … "  Read more from Bay Nature here:  A landscape shaped by fear
Blue-green algae proliferating in lakes:  "The organisms commonly known as blue-green algae have proliferated much more rapidly than other algae in lakes across North America and Europe over the past two centuries — and in many cases the rate of increase has sharply accelerated since the mid-20th century, according to an international team of researchers led by scientists at McGill University.  Their study, published in the journal Ecology Letters, represents the first continental-scale examination of historical changes in levels of cyanobacteria, the scientific term for the photosynthetic bacteria that form blue-green scum on the surface of ponds and lakes during hot summer months. Cyanobacteria blooms pose a serious threat to drinking-water sources, because certain species contain toxins harmful to the liver or nervous system. ... "  Read more from Science Daily here:  Blue-green algae proliferating in lakes
Bad kitty: The effect of feral felines on biodiversity:  "Cats are among the most prized pets in the world. Found in both wild and domesticated populations on every continent except Antarctica, an estimated 600 million cats live globally. While many people value cats for their abilities to catch mice and rats, this hunting prowess has a dark side: populations of cats can wreak havoc on fragile ecosystems by preying on birds and small mammals. The severe impacts of cats on populations of endangered seabirds, particularly on islands, led the Invasive Species Specialist Group and the International Union for the Conservation of Nature to list cats among the world's top 100 most invasive species. Cats can also impact wildlife in our own backyards: according to a 2013 study, cats in the United States are responsible for killing an estimated 1.4 to 3.7 billion birds and 6.9 to 20.7 billion small mammals each year.  … "  Read mroe from the FishBio blog here:  Bad kitty: The effect of feral felines on biodiversity
Scientists have feelings, too:  Faith Kearns writes, "I was a scientist just a few years out of graduate school when I had a career-altering experience speaking with a man in tears at a community workshop. A large cluster of wildfires had burned through his small, close-knit northern California town, and many residents were forced to evacuate their homes. They were worried that their properties would be unprotected in the time they had to stay away: firefighting resources were strained due to additional wildfires in other parts of the state. Emotions ran high for everyone as my colleagues and I presented our work on how houses burn during wildfires.  During the workshop, we talked about the controversial "stay or go" policy. ... "  Read more from the Hippo Reads here:  Scientists have feelings, too
From the archives of the San Francisco Estuary and Watershed Journal …
Drop in chosen archive post here.
Maven's XKCD Comic Pick of the Week …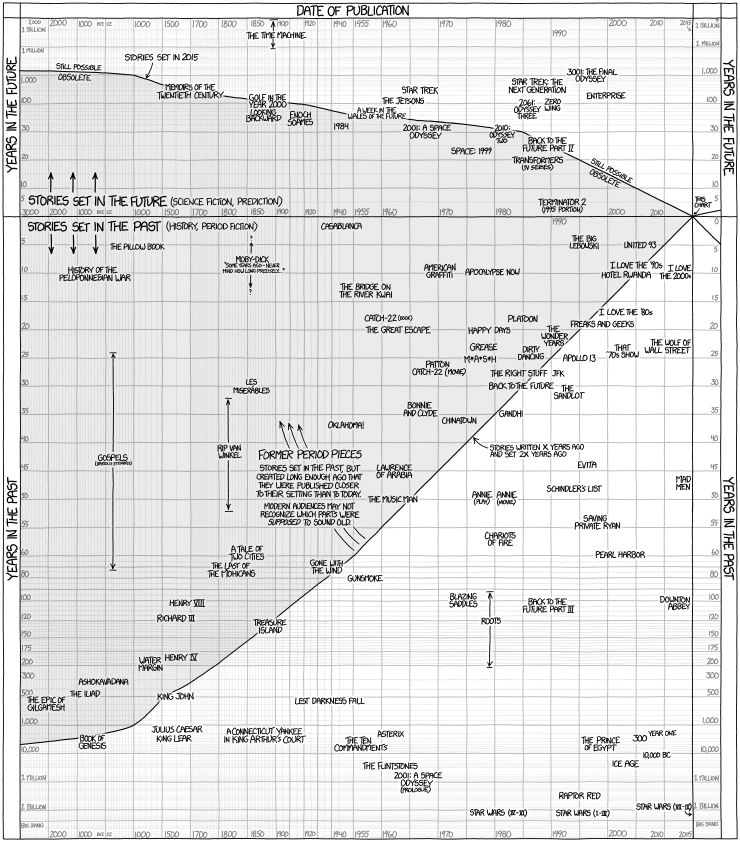 Get the Notebook blog by email and never miss a post!
Sign up for daily emails and get all the Notebook's aggregated and original water news content delivered to your email box by 9AM. Breaking news alerts, too. Sign me up!
___________
About Science News and Reports: This weekly feature, posted every Thursday, is a collection of the latest scientific research and reports with a focus on relevant issues to the Delta and to California water, although other issues such as climate change are sometimes included. Do you have an item to be included here? Submissions of relevant research and other materials is welcome. Email Maven.
(Visited 51 times, 1 visits today)