In science news this week: Rivers in the sky; What is this mystery substance that killed East Bay seabirds?; Preserving Agriculture, Restoring a Watershed, and Getting Help from the Locals To Do It; Warmer, drier climate altering forests statewide; Tree Tipping, Simple soil mixture reverses toxic stormwater effects; New report from the EPA: Connectivity of Streams and Wetlands to Downstream Waters: A Review and Synthesis of the Scientific Evidence; the quality of our nation's groundwater and more …
Rivers in the Sky:  "Yes, there are rivers in the sky!  Atmospheric rivers, to be exact, are narrow bands of moisture that regularly form above the Pacific Ocean and flow towards North America's west coast, drenching it in rain and packing it with snow.   These rivers, which transport more water than the Amazon or the Mississippi, have a far-reaching impact – even on the food you may be eating today.  With this week's  January 14 sailing of NOAA's largest ship, the Ronald H. Brown, a major investigation of atmospheric rivers named CalWater 2015 is now underway.  "Improving our understanding of atmospheric rivers will help us produce better forecasts of where they will hit and when, and how much rain and snow they will deliver,"  said Chris Fairall, the chief of Weather and Climate Physics at NOAA's Office of Oceanic and Atmospheric Research Earth System Research Laboratory in Boulder, Colorado. ... "  Continue reading from Climate.gov here:  Rivers in the Sky  For more on CalWater 2015, go here: Atmospheric Rivers, Cloud-Creating Aerosol Particles, and California Reservoirs
What is this mystery substance that killed East Bay seabirds?  "State officials will begin forensics testing as early as today to determine the substance that has killed at least 20 seabirds in the San Francisco Bay and wounded more than 200 others.  International Bird Rescue (IBR) began taking in an influx of birds late Friday night from areas along the shoreline in the East Bay that were covered in a mystery substance that destroys feather waterproofing, causing hypothermia and death. State investigators from California Department of Fish and Wildlife say the substance is not petroleum based, and is a kind of gray mucus-y organic material that has since dispersed and is no longer a risk. … "  Read more from Bay Nature here:  What is this mystery substance that killed East Bay seabirds?
Preserving Agriculture, Restoring a Watershed, and Getting Help from the Locals To Do It: "The early morning fog was lifting from the Diablo and Santa Cruz mountain ranges as 65 second graders unloaded from a yellow school bus and walked across the exuberantly green floodplain of Gonzales Farm.  This flatland just outside of Gilroy stretches between the two coastal ranges, glowing green following the December rains like a glorious pastoral scene pulled from a picture book of California agriculture. Yet next to a grazing field an 8-foot wide channel, the only sign of the Pajaro River, suggested the contemporary changes cultivation has brought to the landscape. This land, once dominated by expanses of perennial freshwater wetland and seasonal wet meadow, was reclaimed in the 1870s and has been in use for agriculture ever since. ... "  Read more from Bay Nature here: Preserving Agriculture, Restoring a Watershed, and Getting Help from the Locals To Do It
Warmer, drier climate altering forests statewide:  "Historical California vegetation data that more than once dodged the dumpster have now proved their true value, documenting that a changing forest structure seen in the Sierra Nevada has actually happened statewide over the past 90 years.  A team of scientists from the University of California, Berkeley, UC Davis and the U.S. Geological Survey compared unique forest surveys collected by UC Berkeley alumnus Albert Wieslander in the 1920s and '30s with recent U.S. Forest Service data to show that the decline of large trees and increase in the density of smaller trees is not unique to the state's mountains. … "  Read more from UC Berkeley here:  Warmer, drier climate altering forests statewide
New project page at the USGS: Suisun Marsh Waterfowl and Waterbird Studies:
"Suisun Marsh is a critical habitat for wintering and breeding waterbirds in California. Josh Ackerman, Mike Casazza, and Joe Fleskes are working with the California Department of Water Resources to examine the trends in bird decline and to assess the habitat factors driving long-term survival of waterfowl, rails, and other birds in this important area. The project will analyze hunter harvest data, population trends, and species distributions of birds that utilize Suisun Marsh, including the black rail and California Ridgway's rail."  Click here for webpage.  Click here for more ecology news from the USGS Western Ecological Research Center.
Tree Tipping:  "Tree-tipping is a special technology used by the US Forest Service in our restoration efforts. By placing large woody debris into streams, the Forest Service provides better habitat for fish and other aquatic species."  Watch video below:
Simple soil mixture reverses toxic stormwater effects:  "A simple column of common soil can reverse the toxic effects of urban runoff that otherwise quickly kills young coho salmon and their insect prey, according to new research by NOAA Fisheries, Washington State University and the U.S. Fish and Wildlife Service.  The affordable and remarkably effective treatment offers new promise for controlling toxic pollutants that collect on paved surfaces and wash off as stormwater into rivers, streams and the ocean. Polluted stormwater has been identified as a risk factor for many threatened and endangered salmon and steelhead and has caused die-offs of coho salmon in the Pacific Northwest.. … "  Read more from the Northwest Fisheries Science Center here:  Simple soil mixture reverses toxic stormwater effects
New report from the EPA: Connectivity of Streams and Wetlands to Downstream Waters: A Review and Synthesis of the Scientific Evidence (Final Report): "The U.S. Environmental Protection Agency's (USEPA) Office of Research and Development has finalized the report Connectivity of Streams and Wetlands to Downstream Waters: A Review and Synthesis of the Scientific Evidence. The report reviews more than 1,200 peer-reviewed publications and summarizes current scientific understanding about the connectivity and mechanisms by which streams and wetlands, singly or in aggregate, affect the physical, chemical, and biological integrity of downstream waters. The focus of the report is on surface and shallow subsurface connections by which small or temporary streams, nontidal wetlands, and open waters affect larger waters such as rivers, lakes, reservoirs, and estuaries. … This report was developed to inform rulemaking by the U.S. EPA and the U.S. Army Corps of Engineers on the definition of "waters of the United States" under the Clean Water Act (CWA). Because this report is a technical review of peer-reviewed scientific literature, it neither considers nor sets forth legal standards for CWA jurisdiction, nor does it establish EPA policy."  Click here for the fact sheet; click here to download the report.
The quality of our nation's groundwater:  "About 115 million people—more than one-third of the Nation's population—rely on groundwater for drinking water. As the Nation's population grows, the need for high-quality drinking-water supplies becomes even more urgent.  "Through the WaterSMART initiative and the National Water-Quality Assessment Program, the Department of Interior is working to secure sustainable water supplies of sufficient quantity and quality and to identify measures needed to address climate change and future demands," said Jennifer Gimbel, Principal Deputy Assistant Secretary of the U.S. Department of the Interior. "The integrated work that USGS is doing to map groundwater availability, groundwater quality, and the potential for contamination will give us the information we need to understand natural and human effects on groundwater and to take the actions needed to protect this vital natural resource." … "  Read more from the USGS here:  The quality of our nation's groundwater
From the archives of the San Francisco Estuary and Watershed Journal …
Open water processes of the San Francisco Estuary: From physical forcing to biological responses: By Wim Kimmerer (2004)  Abstract excerpt: "This paper reviews the current state of knowledge of the open waters of the San Francisco Estuary. This estuary is well known for the extent to which it has been altered through loss of wetlands, changes in hydrography, and the introduction of chemical and biological contaminants. It is also one of the most studied estuaries in the world, with much of the recent research effort aimed at supporting restoration efforts. In this review I emphasize the conceptual foundations for our current understanding of estuarine dynamics, particularly those aspects relevant to restoration. Several themes run throughout this paper. First is the critical role physical dynamics play in setting the stage for chemical and biological responses. Physical forcing by the tides and by variation in freshwater input combine to control the movement of the salinity field, and to establish stratification, mixing, and dilution patterns throughout the estuary. Many aspects of estuarine dynamics respond to interannual variation in freshwater flow; in particular, abundance of several estuarine-dependent species of fish and shrimp varies positively with flow, although the mechanisms behind these relationships are largely unknown. ... "  Click here to read this paper at the San Francisco Estuary & Watershed Science Journal.
Maven's XKCD Comic Pick of the Week …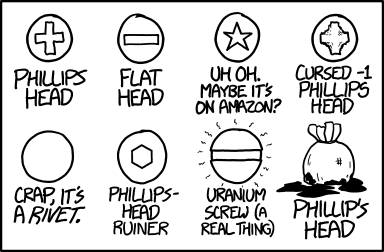 Get the Notebook blog by email and never miss a post!
Sign up for daily emails and get all the Notebook's aggregated and original water news content delivered to your email box by 9AM. Breaking news alerts, too. Sign me up!
___________
About Science News and Reports: This weekly feature, posted every Thursday, is a collection of the latest scientific research and reports with a focus on relevant issues to the Delta and to California water, although other issues such as climate change are sometimes included. Do you have an item to be included here? Submissions of relevant research and other materials is welcome. Email Maven.