In science news this week, California hatchery concerns, Research finds woody debris benefits fish, Water returns to Cullinan Ranch after 100 year absence, Peter Gleick on the state of the California drought: Still very bad, Finding Floating Forests: It Takes an Online Village to Map Massive Kelp, A rise in mass die-offs seen among birds, fish, and marine invertebrates, Mark Lubell: What is network governance?, Algae blooms create their own favorable conditions, and more …
California hatchery concerns: "Fish planting from hatcheries is a more-than-100-year-old solution to supplement stocks that have declined due to a range of issues and impacts. While many stream fish populations depend heavily on these practices, this reliance can come at a cost. In California today, 10 state and federally operated anadromous fish hatcheries produce upwards of 50,000,000 salmon and steelhead every year. Both fry and smolts are released into waterways across the state, from the Klamath River to the Merced River, and even into San Francisco and Monterey Bays. … " Read more from the FishBio blog here: California hatchery concerns
Research finds woody debris benefits fish: "Adding logs and other woody debris to rivers and streams is one of the oldest and most common measures to improve fish habitat. But debates continue over how much benefit logjams and other wood structures provide for fish and how much wood is natural or needed in a given river system. A comprehensive research review by scientists from the Northwest Fisheries Science Center provides new clarity on the question. … " Read more from the Northwest Fisheries Science Center here: Research finds woody debris benefits fish
Water returns to Cullinan Ranch after 100 year absence: "Last week tidal waters returned to the Cullinan Ranch portion of San Pablo Bay National Wildlife Refuge after over a 100-year absence. Dozens of onlookers from organizations like Audubon, Save the Bay and others that have been involved in the restoration project gathered to watch an excavator remove a tidal levee. Once enough dirt was removed the salty water rushed into the restoration area recreating marsh habitat that is one and half times larger than Golden Gate Park. … " Read more from the US Fish and Wildlife Service Field Notes here: Water returns to Cullinan Ranch after 100 year absence
Peter Gleick: The state of the California drought: Still very bad: "The California drought continues. While we do not know yet what the rest of the wet season will bring – and while we hope for the major storms needed to recharge our rivers, groundwater and reservoirs – it seems increasingly likely that California will not see enough precipitation to get out of the very deep deficit that three years of drought (so far) have produced. There is, however, some misleading and confusing information out there. … " Read more from Peter Gleick at the Significant Figures blog here: The state of the California drought: Still very bad
Finding Floating Forests: It Takes an Online Village to Map Massive Kelp: "If you have ever walked along the California coast, you've likely had to navigate around clumps of seaweed. Fathom this: before it was thrown up by the surf and left to dry on the beach, that seeming jetsam was part of a majestic underwater forest just offshore. Giant kelp forests are among Earth's most productive habitats, and their great diversity of plant and animal species supports many fisheries around the world. The kelp, or Macrocystis, that make up these underwater forests truly are giant. … " Read more from NASA's Earth Observatory here: Finding Floating Forests: It Takes an Online Village to Map Massive Kelp
A rise in mass die-offs seen among birds, fish, and marine invertebrates: "An analysis of 727 mass die-offs of nearly 2,500 animal species from the past 70 years has found that such events are increasing among birds, fish and marine invertebrates. At the same time, the number of individuals killed appears to be decreasing for reptiles and amphibians, and unchanged for mammals. Such mass mortality events occur when a large percentage of a population dies in a short time frame. While the die-offs are rare and fall short of extinction, they can pack a devastating punch, potentially killing more than 90 percent of a population in one shot. However, until this study, there had been no quantitative analysis of the patterns of mass mortality events among animals, the study authors noted. … " Continue reading at the U.C. Berkeley News Center here: A rise in mass die-offs seen among birds, fish, and marine invertebrates
Mark Lubell: What is network governance? "In the next couple of months, I'm going to write some expert-based opinions about theories of environmental governance that I use in my research. I begin with a long-standing criticism I have of the term "network governance", in particular when it is used to describe a form of governance that is different from markets and hierarchies. The best example comes from Cross, Hesterly, and Borgatti's (1997) seminal paper where network governance refers to "interfirm coordination that is characterized by organic or informal social systems, in contrast to bureaucratic structures within firms and formal contractual relationships between them(p.913)." The common assumption throughout the literature is that network governance is expected to be more effective than markets or hierarchies for solving complex cooperation problems that span organizational boundaries. … " Continue reading at Mark Lubell's blog here: What is network governance?
Algae blooms create their own favorable conditions: "Fertilizers are known to promote the growth of toxic cyanobacterial blooms in freshwater and oceans worldwide, but a new multi-institution study shows the aquatic microbes themselves can drive nitrogen and phosphorus cycling in a combined one-two punch in lakes. The findings suggest cyanobacteria — sometimes known as pond scum or blue-green algae — that get a toe-hold in low-to-moderate nutrient lakes can set up positive feedback loops that amplify the effects of pollutants and climate change and make conditions even more favorable for blooms, which threaten water resources and public health worldwide. The findings shed new light on what makes cyanobacteria so successful and may lead to new methods of prevention and control. … " Read more from Science Daily here: Algae blooms create their own favorable conditions
January ENSO update: The little engine that couldn't quite: "A month ago, I wrote about the factors we look for when declaring the presence of "El Niño conditions." Last month we were close: monthly average sea surface temperature anomalies in the Niño3.4 region were above +0.5° Celsius, and they looked to stay that way for at least another few seasons. However, signs that the atmosphere was responding to the warmer-than-average ocean waters were inconclusive, and we decided to hold off on declaring the presence of El Niño conditions for the moment. Was that the right decision? Why is this particular forecast so difficult? This month, I'm going to take you behind the scenes, into the forecast process. … " Read more from the ENSO blog here: The little engine that couldn't quite
Landsat seen as a stunning return on public investment: "Orbiting Earth more than 400 miles away in space, far from human view; recording repeated images of land around the globe for more than 42 years; offering customers petabytes of historical and current data for free, the Landsat program of Earth observing satellites could be seen as the personification of the most single-minded office worker — tirelessly systematic, yes, but after so many years, perhaps less than dramatic. What does that worker actually contribute after more than four decades on the job? Is he, she – in this case, it – still relevant to today's market? What is the real value of the work? … " Read more from the USGS here: Landsat seen as stunning return on public investment
From the archives of the San Francisco Estuary and Watershed Journal …
Trends in the sediment yield of the Sacramento River, 1957-2001: Authors: Scott Wright and David Schoellhammer, 2004: Abstract: "Human activities within a watershed, such as agriculture, urbanization, and dam building, may affect the sediment yield from the watershed. Because the equilibrium geomorphic form of an estuary is dependent in part on the sediment supply from the watershed, anthropogenic activities within the watershed have the potential to affect estuary geomorphology. The Sacramento River drains the northern half of California's Central Valley and is the primary source of sediment to San Francisco Bay. In this paper, it is shown that the delivery of suspended-sediment from the Sacramento River to San Francisco Bay has decreased by about one-half during the period 1957 to 2001. Many factors may be contributing to the trend in sediment yield, including the depletion of erodible sediment from hydraulic mining in the late 1800s, trapping of sediment in reservoirs, riverbank protection, altered land-uses (such as agriculture, grazing, urbanization, and logging), and levees. This finding has implications for planned tidal wetland restoration activities around San Francisco Bay, where an adequate sediment supply will be needed to build subsided areas to elevations typical of tidal wetlands as well as to keep pace with projected sea-level rise. In a broader context, the study underscores the need to address anthropogenic impacts on watershed sediment yield when considering actions such as restoration within downstream depositional areas." Click here to read this article at the San Francisco Estuary and Watershed Science journal.
Maven's XKCD Comic Pick of the Week …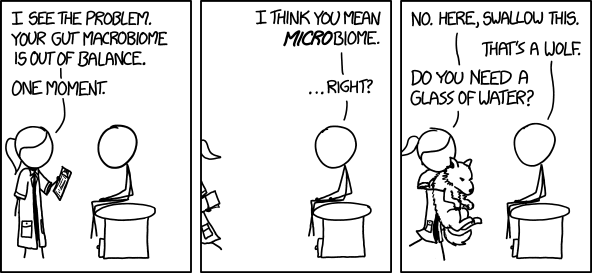 Photo credit: A composite manifestation of oxygen, courtesy of Pacific Northwest National Laboratory.
Get the Notebook blog by email and never miss a post!
Sign up for daily emails and get all the Notebook's aggregated and original water news content delivered to your email box by 9AM. Breaking news alerts, too. Sign me up!
___________
About Science News and Reports: This weekly feature, posted every Thursday, is a collection of the latest scientific research and reports with a focus on relevant issues to the Delta and to California water, although other issues such as climate change are sometimes included. Do you have an item to be included here? Submissions of relevant research and other materials is welcome. Email Maven.