In science news this week, Saving sensitive amphibians in Santa Cruz County; Pier 94: By the People, For the Birds; Tubeworm forest; Aggressive conifer removal benefits Sierra aspen, Fun with statistics: El Nino and California rainfall, Modeling the past to understand the future of a stronger El Niño, Hyacinth woes: From a gift to a curse, Identifying the location and population served by domestic wells in California, Endangered species success: Idaho salmon regaining fitness advantage, and more …
Saving sensitive amphibians in Santa Cruz County: "This year wetlands, ponds and streams across California failed to fill with water as a result of one of the worst droughts the state has seen in decades. Limited water resources not only impact people and communities, but also plants and animals that rely on these essential water resources for survival. In Santa Cruz County, U.S. Fish and Wildlife Service biologists are working alongside county, state and other federal natural resource partners to prevent the extinction of three amphibian species that rely on crucial wetland habitat to reproduce. … " Read more from the US Fish & Wildlife Service Field Notes here: Saving Sensitive Amphibians in Santa Cruz County
Pier 94: By the People, For the Birds: "Pier 94 salt marsh is located at the end of a wide road with dirt piled high on either side, past two cement plants and a truck weighing station. It doesn't seem like ideal bird habitat. From the road, on a gray Saturday morning in November, the area looks abandoned and barren. But there are signs of life: two Canada geese nestled in front of some dirt mounds and Noreen Weeden, in a windbreaker and baseball cap, preparing for a day of restoration. She is waiting for a crew of new volunteers, who will spend this Saturday morning with her, the dirt, and the birds. ... " Read more from Bay Nature here: Pier 94: By the People, For the Birds
Tubeworm forest: "Intertidal areas, or places where the ocean meets the land, are among the most productive ecosystems on the planet. As any beachcomber can relate, the diverse array of plants and animals exposed by receding waters during an ebb tide is often a fascinating sight. However, a large number of intertidal inhabitants typically bury themselves in the sand and remain hidden from the eyes of beach-going naturalists. Among the most species-rich groups of substrate dwellers are bristle worms (or polychaetes), with more than 10,000 species found throughout nearly every environment in the world. ... " Read more from the FishBio blog here: Tubeworm forest
Aggressive conifer removal benefits Sierra aspen: "A study just published by Point Blue Conservation Science shows the benefits of an aggressive approach to restoring Sierra Nevada aspen stands (Populus tremuloides). Most of the aspen stands that dotted the Sierra Nevada less than a century ago are gone or in poor health. Aspen stands can increase groundwater, enrich soils and support a higher diversity of plants and wildlife, relative to adjacent forest types. Keeping aspen stands as part of our forests is critical to maintaining a healthy Sierra Nevada forest ecosystem for people and wildlife. ... " Read more from PhysOrg here: Aggressive conifer removal benefits Sierra aspen
Fun with statistics: El Nino and California rainfall: "I tried to keep today's ENSO blog post simple, involving a question I was asked repeatedly during my recent trip to California: What's the deal with El Niño and California rainfall? An El Niño means lots of rain, right? First off, why are folks so desperate for rain in California? Well, it has been incredibly dry. The drought in California has been a national news story for over a year. With a large portion of the country's fruits, nuts, and vegetables coming from the state, drought conditions could affect Americans, no matter where they live, in the form of higher food prices. ... " Read more here: Fun with statistics: El Nino and California rainfall
Modeling the past to understand the future of a stronger El Niño: "El Nino is not a contemporary phenomenon; it's long been Earth's dominant source of year-to-year climate fluctuation. But as the climate warms and the feedbacks that drive the cycle change, researchers want to know how El Nino will respond. A team of researchers led by the University of Wisconsin's Zhengyu Liu published the latest findings in this quest Nov. 27, 2014 in Nature. … " Read more from Science Daily here: Modeling the past to understand the future of a stronger El Niño
Hyacinth woes: From a gift to a curse: "In 1884, the visiting Japanese delegation to the World's Fair in New Orleans handed out a seemingly innocuous gift to fair attendees. This gift, a beautiful flowering aquatic plant native to South America, was brought home to Florida by a Mrs. W.F. Fuller, who wanted to decorate her backyard fishpond. The plant began to multiply and soon choked the water of her small pond. When she thinned out the plants, a few of them made it into the water at her boat ramp on the nearby St. Johns River. Within a few years, the entire river was covered in a vast floating mat of vegetation so thick that boats could no longer navigate on the river. The plant, water hyacinth (Eichornia crassipes), would turn out to be a scourge in America, as it has come to clog waterways and irrigation canals across the country, blocking sunlight and wringing precious oxygen and nutrients from the water. Brought to California in 1904, it was released by an aquatic plant enthusiast into the Sacramento River, and continues to cause massive problems to this day … " Read more from the FishBio blog here: Hyacinth woes: From a gift to a curse
Identifying the location and population served by domestic wells in California: "Identification of groundwater use is an important step in the regional-scale assessment of groundwater quality. In California, 1990 US Census data indicate that domestic wells provide drinking-water to about 1.2 million people. However, the location of these domestic well users of groundwater is poorly identified because the census tracts can be quite large (up to 20,000 km2). The purposes of this paper are to present methods used for (1) estimating the location of domestic wells, (2) estimating the location of households using domestic well water; and (3) identifying where in California groundwater is an important source of domestic drinking supply. … " Continue reading from the Journal of Hydrology via Science Direct here: Identifying the location and population served by domestic wells in California
Endangered species success: Idaho salmon regaining fitness advantage: "Endangered Snake River sockeye salmon are regaining the fitness of their wild ancestors, with naturally spawned juvenile sockeye migrating to the ocean and returning as adults at a much higher rate than others released from hatcheries, according to a newly published analysis. The analysis indicates that the program to save the species has succeeded and is now shifting to rebuilding populations in the wild.Biologists believe the increased return rate of sockeye spawned naturally by hatchery-produced parents is high enough for the species to eventually sustain itself in the wild again. ... " Continue reading at PhysOrg here: Endangered species success: Idaho salmon regaining fitness advantage
Beware the rising tide: King tides and storm surges give a glimpse into the future: "Climate change? How about climate changed. There is no need to argue over models anymore. You can see the future right in front of you today. Storm frequency has increased. Droughts are more severe. Shellfish growers see thinner shells due to ocean acidification. The Great Barrier Reef is dying. Some crops are failing. Other crops are thriving. In May 2014, the National Climate Assessment was published, documenting these and numerous other cases of climate change happening now. Here in California, one effect of climate change—sea level rise—generates great concern for coastal cities. And the sea is already rising. NOAA reports a 0.04-0.1[1] inch rise in sea level over the last one hundred years, and a recent NOAA report[2] on "nuisance flooding" shows increases of 300-900% on all three U.S. coastlines since 1960. ... " Read more from NOAA's Sea Grant Program here: Beware the rising tide: King tides and storm surges give a glimpse into the future
Salinity counts when it comes to sea level: "Using ocean observations and a large suite of climate models, Lawrence Livermore National Laboratory scientists have found that long-term salinity changes have a stronger influence on regional sea level changes than previously thought. "By using long-term observed estimates of ocean salinity and temperature changes across the globe, and contrasting these with model simulations, we have uncovered the unexpectedly large influence of salinity changes on ocean basin-scale sea level patterns," said LLNL oceanographer Paul Durack, lead author of a paper appearing in the November issue of the journal Environmental Research Letters. ... " Read more from Science Daily here: Salinity counts when it comes to sea level
How much water do you use? The story of water: "Across the nation, water is vital to every household and every community; to agriculture, energy production, and a productive economy; to wildlife, forests, and a healthy environment. America's water resources are generally abundant but they are not limitless. It is vital as well that we have a comprehensive understanding of how much water is being used across the country so we can make wise choices in managing our water resources. … " Read more from the USGS here: How Much Do You Use? The Story of Water
The Hidden Perils of Permafrost: "There's something buried in the Arctic soil that could have a huge effect on the future of our planet's climate. Scientists from Lawrence Berkeley National Laboratory have descended on Barrow, Alaska to study permafrost — soil that remains frozen throughout the seasons, often for thousands of years. They're interested in permafrost because it has the potential to release an enormous amount of greenhouse gases in a short amount of time if rising temperatures cause the permafrost to thaw. … " Continue reading at KQED Science here: The Hidden Perils of Permafrost
Experts weigh in on avoiding ecosystem collapse: "From coral reefs to prairie grasslands, some of the world's most iconic habitats are susceptible to sudden collapse due to seemingly minor events. A classic example: the decimation of kelp forests when a decline of otter predation unleashes urchin population explosions. Three studies hold the promise of helping resource managers predict, avoid, and reverse the tipping points that lead to degraded habitats, economic losses, and social upheaval. ... " Read more from Science Daily here: Avoiding ecosystem collapse: Experts Weigh in
PBS News Hour: Restored wetlands welcome wildlife and protect against future floods in San Francisco Bay Area: "Climate change and resulting rising sea levels threaten a number of dwindling species in the San Francisco Bay Area. A new restoration project transforms industrial salt ponds into thriving marshland habitats to provide a new home for rodents, birds and fish. The NewsHour's Cat Wise reports on another benefit: increased flood protection for human residents."
From the archives of the San Francisco Estuary and Watershed Journal …
Habitat Variability and Complexity in the Upper San Francisco Estuary: By Peter Moyle, Jay Lund, William Bennett, and William Fleenor (2010):
Abstract: "High variability in environmental conditions in both space and time once made the upper San Francisco Estuary (the Estuary) highly productive for native biota. Present conditions often discourage native species, providing a rationale for restoring estuarine variability and habitat complexity. Achieving a variable, more complex Estuary requires policies which: (1) establish internal Sacramento–San Joaquin Delta (the Delta) flows that create a tidally mixed, upstream–downstream gradient in water quality, with minimal cross-Delta flows; (2) create slough networks with more natural channel geometry and less diked, riprapped channel habitat; (3) increase inflows from the Sacramento and San Joaquin rivers; (4) increase tidal marsh habitat, including shallow (1 to 2 m) subtidal areas, in both fresh and brackish zones of the Estuary; (5) create/allow large expanses of low salinity (1 to 4 ppt) open water habitat in the Delta; (6) create a hydrodynamic regime where salinities in the upper Estuary range from near-fresh to 8 to 10 ppt periodically, to discourage alien species and favor desirable species; (7) take species-specific actions that reduce abundance of non-native species and increase abundance of desirable species; (8) establish abundant annual floodplain habitat, with additional large areas that flood in less frequent wet years; (9) reduce inflow of agricultural and urban pollutants; and (10) improve the temperature regime in large areas of the Estuary so temperatures rarely exceed 20 °C during summer and fall months. These actions collectively provide a realistic if experimental approach to achieving flow and habitat objectives to benefit desirable species. Some of these goals are likely to be achieved without deliberate action as the result of sea level rise, climate change, and levee failures, but in the near term, habitat, flow restoration and export reduction projects can enhance a return to a more variable and more productive ecosystem." Click here to download this paper from the San Francisco Estuary and Watershed News
Maven's XKCD Comic Pick of the Week …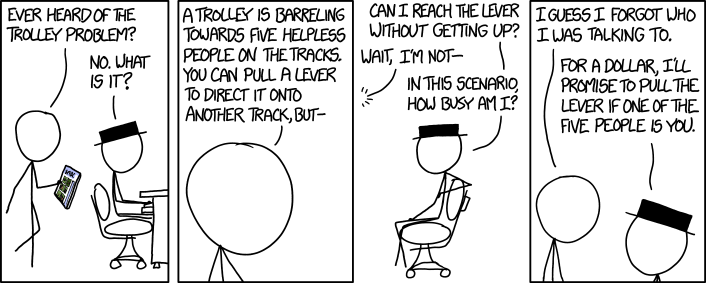 Get the Notebook blog by email and never miss a post!
Sign up for daily emails and get all the Notebook's aggregated and original water news content delivered to your email box by 9AM. Breaking news alerts, too. Sign me up!
___________
About Science News and Reports: This weekly feature, posted every Thursday, is a collection of the latest scientific research and reports with a focus on relevant issues to the Delta and to California water, although other issues such as climate change are sometimes included. Do you have an item to be included here? Submissions of relevant research and other materials is welcome. Email Maven.