When eradicating invasive species threatens endangered species recovery: "Efforts to eradicate invasive species increasingly occur side by side with programs focused on recovery of endangered ones. But what should resource managers do when the eradication of an invasive species threatens an endangered species?  In a new study published May 30 in the journal Science, researchers at the University of California, Davis, examine that conundrum now taking place in the San Francisco Bay. The California clapper rail — a bird found only in the bay — has come to depend on an invasive salt marsh cordgrass, hybrid Spartina, for nesting habitat. Its native habitat has slowly vanished over the decades, largely due to urban development and invasion by Spartina. … "  Read more from UC Davis here:  When eradicating invasive species threatens endangered species recovery
A Soaring Success Story: "Call it our most towering achievement: as a testament to their ingenuity and skill, our team has succeeded in constructing two of the largest PIT tag antennas in the world. Recently, members of FISHBIO had the opportunity to present this project at the 20th Symposium of the International Society on Biotelemetry in Kyoto, Japan. The symposium covered a wide range of topics, from telemetry applied to wildlife and human research, to satellite telemetry and underwater applications. Our presentation highlighted the success of the innovative PIT tag antenna arrays that we designed, fabricated, and deployed in two hydroelectric diversion tunnels in the Yuba River watershed … "  Read more from FishBio here: A Soaring Success Story
Counting species an inaccurate science:  "Species could be going extinct right under the noses of scientists without them realising, researchers have found. Dr Martin Westgate from the Fenner School and Environment and Society led the group that concluded that methods for measuring the full gamut of animal species in a particular location are flawed. This means that efforts to protect endangered species may not be as effective as they could be. … "  Read more from PhysOrg here: Counting species an inaccurate science
New technologies make is easier to protect threatened species:  "Human actions have pushed extinction rates to 1,000 times faster than the natural rate, but a new Duke University-led study finds that emerging technologies could give scientists and policymakers a more efficient way to identify the species at greatest risk and take steps to protect them before it's too late. "Online databases, smartphone apps, crowd-sourcing and new hardware devices are making it easier to collect data on species," said Stuart L. Pimm, Doris Duke Professor of Conservation Ecology at Duke. "When combined with data on land-use change and the species observations of millions of amateur citizen scientists, technology is increasingly allowing scientists and policymakers to more closely monitor the planet's biodiversity and threats to it." … "  Read more from PhysOrg here:   New technologies making it easier to protect threatened species
Bay-Delta Science Conference – Call for Abstracts – Deadline is June 11, 2014.  The Biennial Bay-Delta Science Conference, scheduled for October 28 – 30 in Sacramento, is a forum for presenting technical analyses and results relevant to the Delta Science Program's mission to provide the best possible, unbiased, science-based information for water and environmental decision-making in the Bay-Delta system. The goal of the conference is to provide new information and syntheses to the broad community of scientists, engineers, resource managers, and stakeholders working on Bay-Delta issues. The organizers of this 8th Science Conference are seeking presentations that support this goal.  The conference program will feature oral and poster presentations that provide scientific information and ideas relevant to the topic sessions. The conference theme this year is "Making Connections."  Click here for more information.
Ecosystem services: Looking forward to mid-century:  "As population grows, society needs more — more energy, more food, more paper, more housing, more of nearly everything. Meeting those needs can lead to changes in how land is used. Native grasslands, forests and wetlands may be converted into croplands, tree plantations, residential areas and commercial developments. Those conversions can, in turn, diminish the health of natural ecosystems and their ability to provide an array of valuable services, such as clean air and water, wildlife and opportunities for recreation, to name a few. ... "  Read more from Science Daily here: Ecosystem services: Looking forward to mid-century
The urban water footprint:  Extensive and expensive:  "Two years ago, a colleague and I — like many other scientists and policymakers — were trying to understand how something like climate change might affect municipal water supplies globally. But without a consistent global database of urban water sources, we couldn't get very far. No such database existed at the time and — after complaining about that for a while — we decided we should just build it ourselves.  We've recently finished assembling the first version of what we came to call the City Water Map (CWM, incidentally, is also a real word, one of my favorites). With financial help from the Socio-Environmental Synthesis Center (SESYNC), the Moore Foundation, and advice from our TNC-California colleagues, our international team of scientists mapped the water sources of more than 500 cities globally, providing the first global look at the water infrastructure that serves the world's large cities. ... "  Continue reading from the Cool Green Science blog here: Urban Water Footprint: Extensive and Expensive
Snowmelt Forecasting & Water Resources Management with the Airborne Snow Observatory:  From the Bureau of Reclamation:
Combined Effects of Reservoir Operations and Climate Warming on the Flow Regime of Hydropower Bypass Reaches of California's Sierra Nevada:  From the abstract: "Alterations to flow regimes from regulation and climatic change both affect the biophysical functioning of rivers over long time periods and large spatial areas. Historically, however, the effects of these flow alteration drivers have been studied separately. In this study, results from unregulated and regulated river management models were assessed to understand how flow regime alterations from river regulation differ under future climate conditions in the Sierra Nevada of California, USA. Four representative flow alteration metrics—mean annual flow, low flow duration, centroid timing and mean weekly rate of decrease—were calculated and statistically characterized under historical and future unregulated and regulated conditions over a 20-year period at each of the eight regulated river locations below dams across the Sierra Nevada. Future climatic conditions were represented by assuming an increase in air temperature of 6 °C above historical (1981–2000) air temperatures, with no change in other meteorological conditions. Results indicate that climate warming will measurably alter some aspects of the flow regime. By comparison, however, river regulation with business-as-usual operations will alter flow regimes much more than climate warming. Existing reservoirs can possibly be used to dampen the anticipated effects of climate warming through improved operations, though additional research is needed to identify the full suite of such possibilities."  Read the journal article here:  Combined Effects of Reservoir Operations …
The USGS Experimental Stream Lab:  "Welcome to the Experimental Stream Lab at the US Geological Survey's Leetown Science Center in Kearneysville West Virginia. At this lab we're interested in stream ecology and how fish respond to land use and climate change. This experimental stream lets us test these questions in new ways. We have four stream channels comprising a series of pool and riffle chambers. We're learning how brook trout respond to increasing stream temperatures and invasive species, as well as the interaction of these factors. This work helps us better understand how to protect and restore native brook trout habitat in Appalachia. There are many other possible applications of this stream lab for ecological research, and we invite your ideas and look forward to the collaboration."  Click here to watch the video on YouTube.
A Landsat 8 Yearbook: Earth Images for Everyone: "Landsat 8 has been on the job for a year now — since May 30, 2013, when NASA transferred ownership and operation of the satellite to the U.S. Geological Survey.  About 100 days before that, NASA launched Landsat 8 from Vandenberg Air Force Base in California on February 11. It is the latest in the Landsat series of remote-sensing satellites that have provided a continuous record of change across Earth's land surfaces since 1972.  Scientists, land management professionals, and space enthusiasts already know that Landsat 8 is stocked with a 10-year supply of fuel, that it carries two highly sensitive observation instruments operating more precisely than before, and that the USGS now operates Landsat 8 along with older sister Landsat 7.  With two Landsat satellites on orbit, the USGS can provide data every eight days for any spot on the Earth's land masses, supporting water managers, agricultural commodities markets, and scientists around the globe. ... "  Continue reading here:  A Landsat 8 Yearbook: Earth Images for Everyone
A new substance for the geologic record: Plastiglomerate:  " … Geologists have always joked about the "Era of Broken Glass" among themselves. But in the open-access journal GSA Today, three researchers have described a substance that may well outlast humanity and remain in the rock record as a worldwide marker. It's a concrete-like rock made of plastic and sediment that they dub "plastiglomerate." The researchers are geologist Patricia Corcoran, artist Kelly Jazvac (both of University of Western Ontario) and marine researcher/activist Charles Moore (Algalita Marine Research Institute), and their field area was remote, plastic-littered Kamilo Beach in Hawaii. … "  Read more from KQED Science here: Plastic Substance Created by Pollution Yields a New Word: Plastiglomerate
Maven's XKCD Comic Pick of the Week: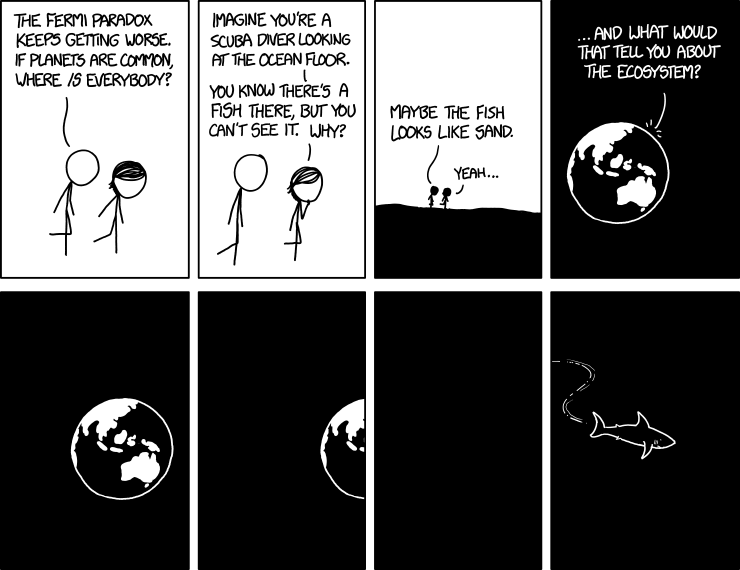 Photo credit:  City of Arts and Sciences in Valencia, Spain by flickr photographer Marc.