Are Central Valley steelhead still threatened? Peter Moyle at the California Water Blog explores: "The primary goal of the federal Endangered Species Act (ESA) is to shorten the government's list of "endangered" and "threatened" species. The American Peregrine falcon, the brown pelican, the eastern Steller sea lion and California populations of the gray whale are among the iconic creatures that have recovered to large populations and have been "delisted," thanks to the strong conservation measures afforded under the 40-year-old law. But there is another, less congratulatory way species have made it off the lists: new and better information becomes available showing a species is no longer or never was in danger of extinction. … " Continue reading at the California Water Blog here: Are Central Valley steelhead really 'threatened'?
Hope for sea level rise in the Bay Area: Situation serious, but not hopeless: "The showdown with encroaching seas will be the topic when planners and others gather in San Mateo County Monday to talk about a battle plan for the coming decades. San Mateo could be "ground zero" for Bay Area impacts. Congresswoman Jackie Speier, whose district includes most of San Mateo County and who is co-sponsoring the conference with county supervisor Dave Pine, lists it among the nation's "top ten hotspots" for sea rise impacts. "We have got to get serious about anticipating that and doing our level best to prevent catastrophe," she said in a phone interview. … local officials will get some tips from John Englander, whose eerily-timed book, High Tide on Main Street, pretty much laid out the whole scenario for Hurricane Sandy–a week before the "superstorm" hit the East Coast last year. Englander calls sea level rise the "most profound change" to the planet this century. In an interview, he offered some thoughts for planners confronting the problem. … " Read the full article at KQED here: Memo to Bay Area Sea Rise Planners: Situation Serious But Not Hopeless

Science events for your calendar:
Independent Science Review Panel Briefing on the BDCP Effects Analysis, Wednesday, December 18, 2013 from 9 a.m. to 12 p.m. This will be webcast.
After that, grab your lunch and head on over to the Brown Bag on"Adaptive Management in Action – The Process of Stream Restoration at Mono Lake" on Wednesday, December 18, 2013, from 12:30 – 1:30 p.m.
Save the date for the Delta Outflows and Related Stressors Workshop at the State Water Board, February 10-11, 2014
The Endangered Species Act meets climate change: "As the Endangered Species Act nears its 40th birthday at the end of December, conservation biologists are coming to terms with a danger not foreseen in the early 1970s: global climate change. Federal fisheries scientists have published a special section in this month's issue of Conservation Biology that outlines some considerations for coming decades. A University of Washington climate scientist helped biologists determine the long-term forecast for aquatic animals. "When you look at projections for future climate change, there's a big range of possible futures. And decision makers or biologists assessing impacts on a particular species want to know what's the most likely future – they don't want to use this huge range of uncertainty," said Amy Snover, director of the UW-based Climate Impacts Group. … " Read more from PhysOrg: Climate research provides roadmap for endangered species preservation
Right mix of species needed for conservation of salt marshes: " … In a new study of biodiversity loss in a salt marsh, published this week in the Proceedings of the National Academy of Sciences, they find that it's not just the total number of species preserved that matters, it's the number of key species. If humans want to reap the benefits of the full range of functions that salt marshes and other coastal ecosystems provide, we need to preserve the right mix of species, they said. "Having a group of distantly related species, representing markedly different ecologies and biology, is as important, or more important, than just having more species in general," said Brian R. Silliman, Rachel Carson associate professor of marine conservation biology at Duke's Nicholas School of the Environment. … " Read more from Science Daily here: Quality of Biodiversity, Not Just Quantity, Is Key: Right Mix of Species Is Needed for Conservation
NASA's Airborne Snow Observatory helped Bay Area agencies achieve near-perfect water operations this year: "Unprecedented snowpack maps from NASA's prototype Airborne Snow Observatory mission helped water managers for 2.6 million residents of the San Francisco Bay Area achieve near-perfect water operations this summer, despite the driest year in California's recorded history. The high-resolution NASA snow maps of the Tuolumne River Basin in the Sierra Nevada helped optimize reservoir filling and hydroelectric generation at the Hetch Hetchy reservoir and its O'Shaughnessy Dam. This resulted in a full reservoir at the end of the snowmelt season, no water spillage, and generation of more than $3.9 million in hydropower. The NASA data helped optimize operations during the last two critical weeks of runoff. … " Read more from NASA here: NASA snow mapper reaps big benefits for California
Retrospective: San Francisco Bay's Comprehensive Conservation Management Plan and it's influence on state regulators: Civil engineer and water board member Steve Moore relects on how the Comprehensive Conservation and Management Plan may have changed the State Board's philosophy and practice in this article from Estuary News. When asked,how has the State Water Board's institutional culture evolved over the past 20 years? Was it influenced by the CCMP?, Mr. Moore answers: "The CCMP goals revolved a lot around restoration of various functions—habitat, hydrology – and around pollution prevention. Those concepts in the early 90s weren't central to State Board operations, which were more concerned with water rights and transfers. Water quality was left more to the Regional Boards and their Basin Plans. Today, I think the State Board is more active in terms of the CCMP goals, and more engaged with issues of regional importance that have statewide applications, than it was 20 years ago. … " Read more from the San Francisco Estuary Institute here: Influence of CCMP on State Water Regulators?
Water quality power point presentations now online: The presentations from the 20th annual meeting of the California Aquatic Bioassessment Group are now available at this webpage. Videos will soon follow.
New report on marine impacts of desalination plants now available from the Pacific Institute: "Desalination, like other major industrial processes, has environmental impacts that must be understood and mitigated. A new report from the Pacific Institute examines effects on the marine environment associated with the construction and long-term operation of seawater desalination plants, including withdrawing water from the ocean and discharging the highly concentrated brine. "If and when we build plants in California, we must ensure that the plants are built to the highest standards given what we know now," said Cooley. "Additionally, monitoring of existing and proposed desalination plants is crucial to improving our understanding of the sensitivity of the marine environment and helping promote more effective operation and design to minimize ecological and biological impacts in the future." … " Read more from the Pacific Institute here: Key Issues in Seawater Desalination in California: Marine Impacts
Climate change change projections for temperature and precipitation now available for counties: " … The maps and summaries are based on NASA downscaling of the 33 climate models used in the 5th Climate Model Intercomparison Project and the current Intergovernmental Panel on Climate Change (IPCC) Assessment Report. The resulting NASA dataset is on an 800-meter grid with national coverage.The USGS leveraged this massive dataset and distilled the information into easily understood maps, 3-page summaries and spreadsheet compatible data files for each state and county in the United States. A similar implementation for the USGS nested hydrologic units will be available in the next month. "This product is innovative, user-friendly and invaluable for assessing and understanding climate model simulations of local and regional climate and climate change whether you're a policy maker, a manager, a planner, an educator or another engaged U.S. citizen," said Matthew Larsen, associate director for the USGS Climate and Land Use Program. "The maps and summaries at the county level condense a huge volume of data into formats that are informative for planning, teaching, adaptation and mitigation purposes." … " Read more from USGS here: What are Future Climate Projections for Precipitation and Temperature for Your County?
Natural biochemical processes can remove nitrate: "Recent U.S. Geological Survey research has found that natural biochemical processes in water moving back and forth between a stream and its underlying sediment were significant in removing nitrate from streams in the Illinois River basin, one of the world's most intensively farmed regions. The USGS study in a nitrogen-polluted stream found that the flow of streamwater through a very thin zone of sediment enhances chemical reactions that decrease nitrate delivery to coastal areas where nitrogen fuels formation of hypoxic "dead zones." "One of the thorniest issues in the overall quality of our Nation's waters is relatively high levels of nitrates and other nutrients in many of our streams and rivers," said Lori Caramanian, Department of the Interior Deputy Assistant Secretary for Water and Science. "A better understanding of the natural processes that reduce nutrients in our streams and rivers will help us mange our waterways in a more effective manner." … " Read more from the USGS here: Thin Skin Beneath Streams Can Power Large Improvements in Water Quality
And lastly … rare fog fills Grand Canyon: "The Grand Canyon stuns visitors with breathtaking views every day. Between November 29 and December 2, 2013, it stunned visitors even more by not being visible. A rare meteorological event filled the canyon with an ocean of clouds. Such events are so rare that National Park Service rangers—who see the canyon every day—wait for years to see the ground-hugging fog. The photo above from Mather Point is one of more than two dozen that Grand Canyon National Park posted to its Flikr photostream.  The fog was trapped in the canyon by a temperature inversion, which happens when the air near the ground is cooler than the air above it. A high-pressure system brought low temperatures, clear skies, and calm winds to the Grand Canyon. During the long nights, the ground cooled quickly, chilling the air immediately above it. The air higher in the atmosphere did not cool as quickly, and so an inversion developed. Without wind to stir it, cold dense air was trapped beneath a more buoyant layer of warm air. … " Read more from NASA's Earth Observatory here: Fog Fills the Grand Canyon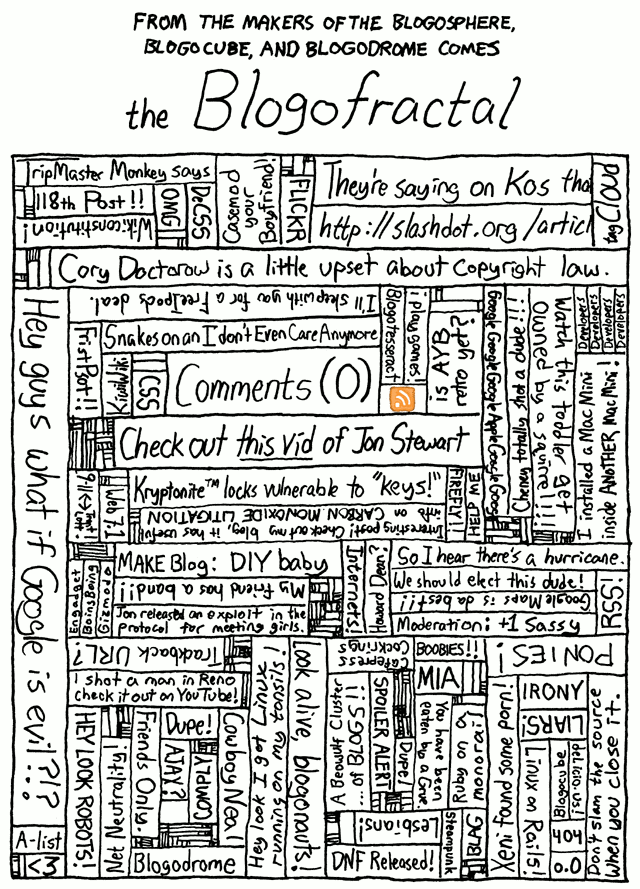 Photo credit: "Water Symmetry" by flickr photographer Anders Sandberg.