Restoring the Delta's tidal marshes and floodplains:  "The curving swath of waterways and marshes that stretches from Suisun Marsh, northeast up the Sacramento River—referred to by presenters on Tuesday afternoon as the North Delta Arc—are prime spawning, growing, and foraging habitat for native estuarine and freshwater fish. Yet fish as well as waterfowl in the area will face challenges as sea level rises, other effects of climate change take hold, and people continue to modify the region. Three presenters from UC Davis's Center for Watershed Sciences looked ahead at how to best support the region's ecosystem in the decades to come. … "  Read more from Estuary News here:  Engineering the Delta Marshes of Tomorrow
Updated GRACE satellite analysis of water storage changes in California:  The UC Center for Hydrologic Modeling has issued their first water advisory:  "In response to the declaration of a drought emergency in California by Governor Jerry Brown (January 17, 2014),we provide a preliminary update to our previous work on water storage changes in the combined Sacramento and San Joaquin River basins, including the Central Valley, by the University of California Center for Hydrologic Modeling (UCCHM) [Famiglietti et al., 2011] (appended). That study used 78 months (October 2003 – March 2010) of satellite observations from the NASA Gravity Recovery and Climate Experiment (GRACE) mission to show that the Sacramento and San Joaquin River basins lost nearly 31 cubic kilometers of fresh water during the time period investigated, equivalent to nearly the full volume of Lake Mead.  Of this, over 20 cubic kilometers of the losses were attributed to Central Valley groundwater depletion. … "  Read the full report here:  UCCHM Water Advisory #1: Water Storage Changes in California's Sacramento and San Joaquin River Basins From GRACE: Preliminary Updated Results for 2003-2013

Delta fish populations remain low: The FishBio blog takes a look: "Unfortunately,  the results from the 2013 California Department of Fish and Wildlife (CDFW) Fall Midwater Trawl present a grim diagnosis of the health of California's largest wetland ecosystem, the San Francisco Bay Delta. With the exception of a few years (1974 and 1979), the Fall Midwater Trawl has been conducted annually from 1967-2013 at approximately 122 stations throughout the Delta. Each station is sampled monthly from September to December, and station locations encompass San Pablo Bay and both the Sacramento River (upstream to Hood) and San Joaquin River (upstream to Stockton). Six fish species documented since 1967 include striped bass (Morone saxatilis), American shad (Alosa sapidissima), threadfin shad (Dorosoma petenense), delta smelt (Hypomesus transpacificus), longfin smelt (Spirinchus thaleichthys), and Sacramento splittail (Pogonichthys macrolepidotus). … "  Read more from the FishBio blog here:  Fish numbers in San Francisco Bay Delta remain low
Water quality and TMDLs:  "When contaminants are coming from so many sources – whether it's farm fields or urban areas or eroding creek banks, not to mention drains and discharge pipes – balancing actions to curb them can be a daunting task for water quality watchdogs. To this end, however, the two regional water boards charged with protecting Central Valley waterways and San Francisco Bay from contamination have effectively wielded the "TMDL."  This Clean Water Act tool allows the boards to set a total maximum daily load of a contaminant for an impaired water body, and to work with diverse sources to reduce the load collectively. Such efforts often inspire new regulations, and a suite of related outreach and prevention programs. In this afternoon session, speakers described their experiences managing two priority contaminants – pesticides from agricultural irrigation upstream and urban creeks downstream, and sediment in the Napa River watershed. … "  Continue reading at Estuary News here:  Restoring Water Quality with TMDLS
Science and California's drought:  The California Academy of Sciences looks behind the drought headlines:  "However welcome the change in weather, the bit of rain and snow we received last week does little to affect the drought status and state of emergency in effect for California.  "This could potentially be the driest water year in 500 years," says Lynn Ingram, a professor at UC Berkeley. Ingram, an Academy fellow and co-author of The West Without Water: What Past Floods, Droughts, and Other Climatic Clues Tell Us About Tomorrow, was featured last fall in our video about Atmospheric Rivers. And she knows her droughts. As a paleoclimatologist—a scientist who studies changes in climate by teasing data out of rocks, sediments, shells, microfossils, trees, and other sources—she's accustomed to looking deeply into Earth's past. … "  Read more from the California Academy of Sciences here:  California's Drought
Coexisting with a changing shoreline:  "The sea level is rising all around the world; that inconvenient truth is part of the fact of climate change. But in California, rising sea level for the most part will not pose novel problems. We've had ample experience with the problems under the label of "coastal retreat": even with a steady sea level, waves and tides will attack the land and beat it back without mercy. A rising sea makes things only a little worse than what we're used to, or at least what geologists are used to.  Up and down the California coast, the sea has been carving cliffs into the shore and excavating them in the form of sand, which the currents carry from place to place. The main thing that protects the cliffs, moderating the inevitable, is that sand. Today's balance of beaches and bluffs—rather, the balance that the first European settlers witnessed around 1800—took thousands of years to achieve after the last ice age ended, about 10,000 years ago. … " (Note: This article features an interesting time sequence of photographs of the changing coastline at Bodega Bay.)  Read more from KQED Science here:  Co-Existing with the Dynamics of California's Changing Coastline
Art, science, and Delta restoration:  The article opens with a description of a performance by an artist which transformed the audience into a water molecule:  "This striking performance opened the fourth Bay Area Art and Science Interdisciplinary Collaborative Session (BAASICS.4) at ODC Theater in San Francisco on January 18th. It was an evening of presentations by artists and scientists—many of whom blur the distinction—about the San Francisco Bay Delta Watershed.  Watersheds are a type of geographic organization—but that makes them sound so (if you'll forgive the expression) dry. They are tapestries of interwoven lives—that's better. All life depends on water, and all water flows to the sea. A watershed contains all the land whose rainfall eventually joins the ocean at a single outlet: for example, under the Golden Gate Bridge. … " Continue reading from KQED Science here:  Using Art to Imagine a Restored Bay Delta Watershed
When is an ecosystem service not a service? The Cool Green Science blog explores: "If a tree falls in a forest, does it make a sound?  This little philosophical conundrum hinges on whether you think of sound as something brought into existence by a perceptive human mind, or simply recognize it as a physical property of the universe. Meanwhile a similar but more practical matter is bothering me.  If an ecosystem produces something useful, but nobody uses it, is still it an ecosystem service?  To me the answer is surely "no", but not everyone follows this viewpoint. … "  Read more from Cool Green Science here: When is an Ecosystem Service Not an Ecosystem Service?
Water supply availability 'to dominate U.S. natural resource management':  "Water supply is the most pressing environmental issue facing the United States according to a survey of policy makers and scientists revealed in a new publication in BioScience by researchers at the University of York and the University of California, Davis. A question on the water supply necessary to sustain human populations and ecosystem resilience was ranked as having the greatest potential, if it was answered, to increase the effectiveness of policies related to natural resource management in the United States. The publication comes as California suffers its worst drought in nearly half a century. … "  Read more from Science Daily here:  Water supply availability 'to dominate U.S. natural resource management'
Olympics and science:  "The 2014 Winter Olympic Games in Sochi, Russia will be featuring many exciting events for the world to see. Though the Olympics Games is the premier athletic competition worldwide, the games also bridge the gap between science and sports by covering a number of Earth science topics as well. … "  Find out more here:  Olympics 2014: Let the Science Begin!
New scientific field looks at the big picture: "Big data is changing the field of ecology. The shift is dramatic enough to warrant the creation of an entirely new field: macrosystems ecology.  "Ecologists can no longer sample and study just one or even a handful of ecosystems," said Patricia Soranno, Michigan State University professor of fisheries and wildlife and macrosystems ecology pioneer. "We also need to study lots of ecosystems and use lots of data to tackle many environmental problems such as climate change, land-use change and invasive species, because such problems exist at a larger scale than many problems from the past." … "  Read more from PhysOrg here: New scientific field looks at the big picture
Maven's XKCD Comic pick of the week: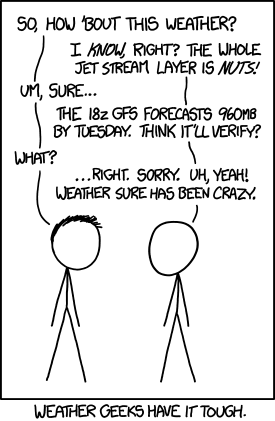 Photo credit:  Colorful test tubes by Sharon Drummond.
854 total views, 1 views today